The Plaza
This small plaza was a fairly easy model for me. The layout I broke down to 8 smaller pieces that can be fit together. This prevent any ackward trimming and less-than-stable structures. As this plaza was on the higher - better class levels of the city, I went for a lighter paint using a light gray called concrete that I found on WalMart's paint display (whoever picks this color for a room though, should be shot!).
I made several benches using some of the extra smaller floor tiles that I had laying around and painted them black. I thought the darker color went well with the lighter floor and those benches can be used in some of my interior maps later on (you already saw one of them from the Control Room above).
The fountain was made from the Hirst Arts Turret mold and glued on to a piece of cardboard, which I painted light blue. I used a 5-minute epoxy to seal the cardboard to the bricks. Once dried, I poured Envirotex Lite to provide the water effect. Envirotex Lite is a furniture varnish that dries nice and hard and crystal clear. You can find it at Michael's and other craft stores in various amounts. I bought a the 7oz bottles for about $15 and was able to make a number of models before running out. This is great stuff to make bacta tanks! I will post mine later.
The statue is made in two sections, the base and then the statue. For the base, I used the Hirst Arts Turret mold again utilizing the smooth pieces that I did not need for the fountain. For the statue, I used one of those blue holo figures that were packed in some of the older Star Wars Action Figures. My kids have numerous of these lying around and I grabbed an Amidala for this statue. I had to cut the base of the figure to make a nice fit. Once fully assembled, I painted the whole statue a lighter grey that is called Weatered Tin (again found in WalMart's paint display).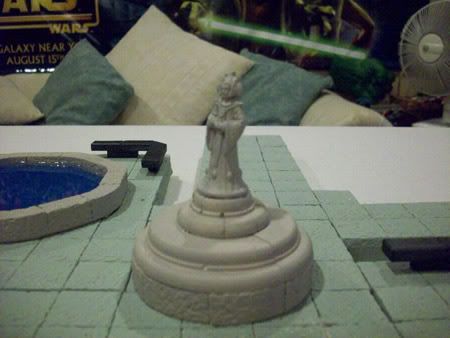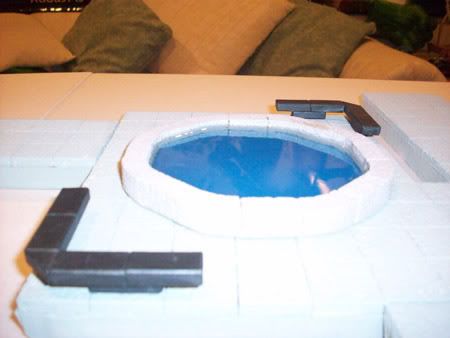 Next up: The Skywalk!