It sounds like guildmaster refers to the bounty hunters guild, which isn't exactly what we're dealing with. I think
Trandoshan Clan Leader
may be more accurate, as the trandoshans had a clan based society.
We can't really use bossk for a non-unique common/uncommon, as people don't tend to have bulk Uniques at the ready to proxy in. so, that leaves us with a few options.
I heavily suggest against using the Elite Trandoshan Mercenary
:
The whole point of this piece is to boost trandoshans. The Elite Trandoshan Merc is probably the best non-unique trandoshan we have. So, it is very likely that this new piece will be run with the Elite Tran Merc frequently.
I actually suggest using the noghori or noghori commando. They look close to trandoshans, and there is less room for cross over.
Or even a nikto: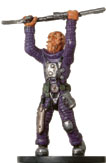 If we have to use a trandoshan, Trandoshan Scavenger has the lowest rating, worst stats, and seems the least redeemable of the lot. Especially if the CE ends up giving a bonus to rend or amush for double claw, he would benefit the least.