---
Jumping right in I've got a few kicking around:

While I have submitted full stat blocks, please consider them not to be set in stone finished works.



R5Don4 wrote:

Weequay Skiff Master

Cost: 8

Hit Points: 30

Defense: 14

Attack: 4

Damage: 10

Rarity: Common

Base: Medium

Gunner +20 (Can combine fire with adjacent allies who have Mounted Weapon, granting +20 Damage)

Skiff Master (Followers with the Special Ability Desert Skiff may transport an additional 1 Large or 2 Small or Medium allies. If that ally is defeated all transported allies may make a second save of 6 to avoid defeat in addition to the first save of 11)

Rapport (A character named Nikto Gunner on Desert Skiff costs 1 less when in the same squad as this character)

Commander Effect

Allied characters with Rigid may Squeeze. Allied characters with Desert Skiff gain Advantageous Cover.

The Hutt gangster Jabba Desilijic Tiure maintained a small fleet of Bantha-II cargo skiffs at his Dune Sea palace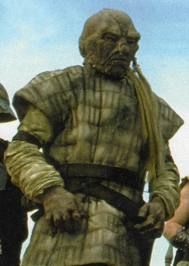 RM: Weequay Gunner

The Skiff always stunk. A chase Huge VR but it stunk out load from day one, this unit would give it a badly needed boost. The Skiff is a Fringe movement breaker, but currently unplayable. I'd rather see a new piece boost an old one than replace an old one.



R5Don4 wrote:

Gammorean Enforcer
Cost: 16
Hit Points: 70
Defense: 14
Attack: 6
Damage: 20
Rarity: Common
Base: Medium

Special Abilities
Melee Attack (Can attack only adjacent enemies)
Melee Reach 2 (When attacking, this character treats enemies up to 2 squares away as adjacent)
Immobilize (An enemy adjacent to an ally hit by this character's attack may not move until the end of the round.)
Threatening Reach (This character may make attacks of opportunity against enemies within 2 squares.)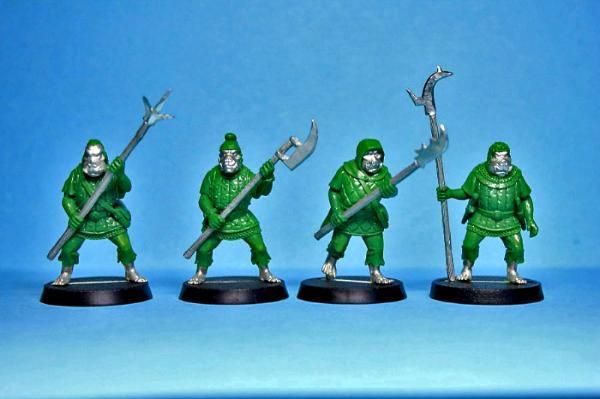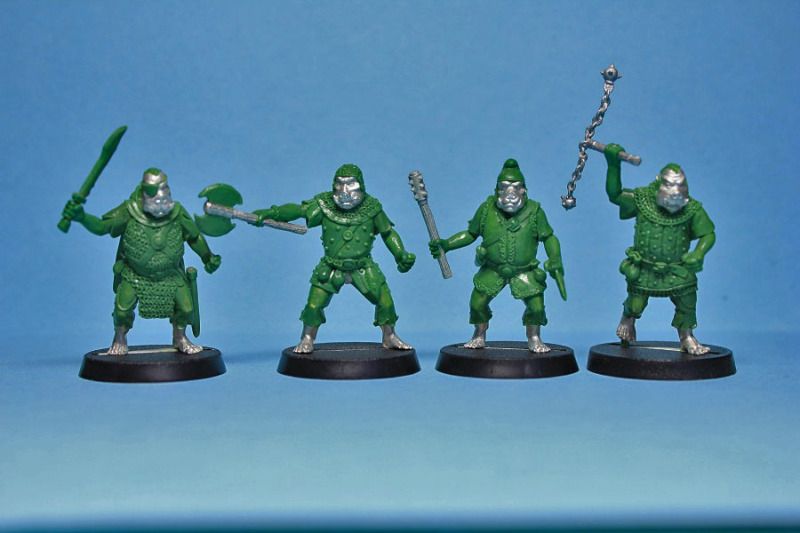 The Gammoreans should have been a bit more threatening than they have ever been in this game. This guy was designed as a mild Yobuck/Lancer counter, kind of a Melee Zuckuss BH. Inspired by the trope of a guard with a long polearm. Add Weak Willed for flavor?



R5Don4 wrote:

Saurin Combat Trainer

Cost: 18

Hit Points: 80

Defense: 19

Attack: 10

Damage: 10

Rarity: Uncommon

Base: Medium

Special Abilities

Melee Attack (Can attack only adjacent enemies)

Rapport (Costs 1 less when in a squad with a character whose name contains Jabba)

Cleave (Once per turn, if this character defeats an adjacent enemy by making an attack, he can make 1 immediate attack against another adjacent enemy)

Commander Effect

Allied Gammorean characters gain Close-Quarters Fighting and Deathstrike

Jabba the Hutt employed a Saurin combat instructor for the gangster's Gamorrean guards. The Saurin came to hate both his employment and his employer.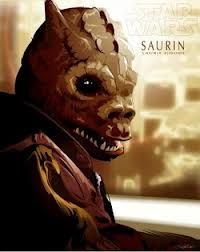 This piece goes conceptually goes along with the Gammorean above but helps out the original Gammies as well.

When designing a Fringe commander one has to take into consideration the eligible followers, by making the scope very narrow it also narrows any unforseen abuse. Too cautious?



R5Don4 wrote:

Wampa Den Mother

Cost: 26

Hit Points: 100

Defense: 16

Attack: 7

Damage: 20

Rarity: Uncommon

Base: Large

Special Abilities

Melee Attack (Can attack only adjacent enemies)

Double Attack (On her turn, this character can make 1 extra attack instead of moving)

Ambush (This character can move and then make all her attacks against 1 enemy who has not activated this round)

Immobilizing Rend (If both of this character's attacks hit the same enemy, that enemy cannot move this round)

Savage (This character must end her move next to an enemy if she can and does not benefit from commander effects)

Stealth (If this character has cover, she does not count as the nearest enemy for an attacker farther than 6 squares when choosing targets)

Synergy (+4 Attack and +2 Defense while an allied character with Savage is within 6 squares)

Commander Effect

Characters with Savage are subject to this commander effect, Savage followers gain Charging Assault +10 and Synergy (+4 Attack, +2 Defense when within 6 squares of an ally with Savage).

Although they primarily hunted alone, some wampas occasionally hunted in packs, banding together to attack a threat to their territory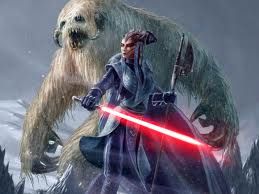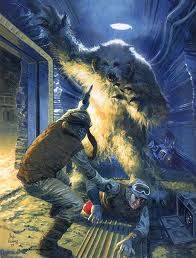 Another Commander, this time for Savage characters who have always blown pretty hard. There has been some progress made with the advent of the Vsets but they still could use a boost. Again choice of character is because Wampas in either version always seriously lacked anything worth playing even though it is a movie creature that is easily recognized by all walks of life as part of Star Wars.



R5Don4 wrote:

Black Vulkars Gangleader

Cost: 18

Hit Points: 50

Defense: 17

Attack: 7

Damage: 20

Rarity: Common

Base: Medium

Special Abilities

Affinity (a character named Sith Heavy Assault Droid may be in this character's squad regardless of faction.)

Deadeye (On this character's turn, if he doesn't move, he gets +10 Damage)

Commander Effect

Black Sun, Black Vulkar, Dark Hellion, and Mercenary followers gain Loyalist (once per turn, when an allied commander within six squares is targeted this character may make an immediate attack against that character.)

Don't ask me where I got it, do you want it or not?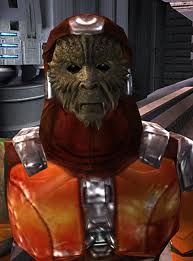 Sets up a mini-sub Faction, helps a couple existing subfactions. Gives a bit of body guard ability to counter deep strike Assassination strategies.



R5Don4 wrote:

Vynock

Cost: 6

Hit Points: 10

Defense: 13

Attack: 0

Damage: 10

Rarity: Common

Base: Medium

Special Abilities

Melee Attack (Can attack only adjacent enemies)

Attach (Replaces attacks, Remove this character. 10 damage to an adjacent non-living character. Each round the character activates it takes ongoing 10 Damage. Save 11 negates.)

Demolish (Ignores Damage Reduction of adjacent targets)

Flight (Ignores difficult terrain, enemy characters, low objects, and pits when moving)

The vynock is an atmosphere-breathing subspecies of the mynock.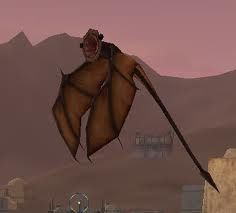 Cheap to be brought in through Lobo. I thought the concept of Attach was perfect for the Mynock, but we already have a Mynock. Poking around I Wookipeedia I found the Vynock.

EDIT: Visual references added