With the full setlist and rarities now spoiled, here is an excel case generator for the set.
TO's will probably have the most use for it to generate random cases for their "sealed" tournaments.
It randomizes the boosters using the same format as the old WotC distribution (4 VR / 8 R / 2 X UC / 3 X C).
Attached below is a sample print out it generates: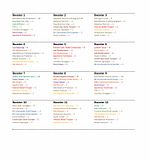 As always, comments and suggestions are welcome.

_________________


-==========================

[]IIIIOIIII[]

==========================-


My Customs Thread