Just thought I would share out group play report this weekend because everyone had alot of fun with Royal Rumble. Our play group is a little different than most play groups in that we are 100% private. As long as I have lived in this town there is/was no game shop that supported the game from a play stand point and very little available sales. There are a couple of places were packs could be found but generally Target was the place to go. (especially after the sales.) So the I introduced one friend to the game when I moved here and through him we have introduced the game to scores of other people. WE have never had a constructed tournament where less than 4 show up, the average is 6+. This could just be because of the fact we only run 4-6 a year, including out Annual Terrible Trio Thanksgiving Tournament. Despite this the game has grown for us and we know have 5 regular players and 5 casual players and several who have expressed interest in learning the game.
The original plan for us was to have 1-4 be for Royal Rumble and then 4-10 to run Battle of Hoth. The later i was really looking forward to. Alas we never made it.
When it cam to royal rumble there was apparently a miscommunication in the play group as everyone thought you could only use unique in the game. IT Certainly made it interesting for anyone with a BH ability because it was always on.
I took a couple pictures. (below)
The first one you can see that we set it up with and additional cover spot in the middle and the 2nd one we had 5 start points, (and extra player came late and we changed the starting rooms.) The middle was interesting because before to long we had 6 characters out in the middle. The person who phased in their next set phased in adjacent to people and could go town on their first init.
The Character of the game was Mace, and not mine. One of the players Mace LOTS Did 326 point before getting taken out. (as opposed to mine that did 0 and died to shooters after only moving once.)
It is a really fun format and we will have to try the Epic format as mentioned in the actual report.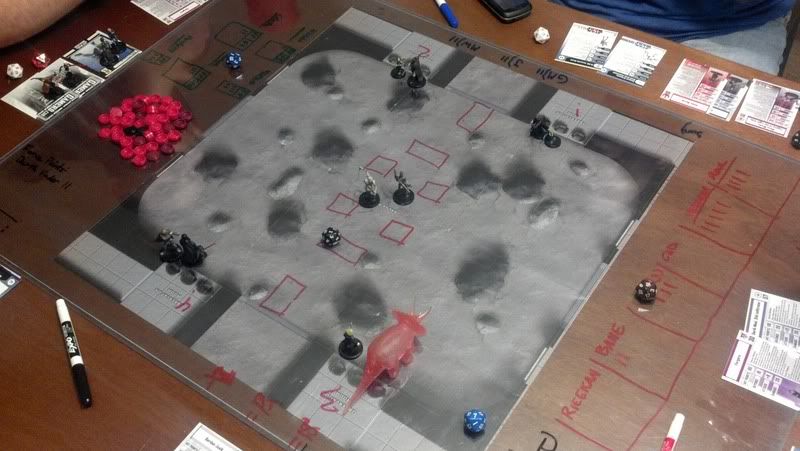 As I mentioned before I was pretty dissapointed in not getting to do the Battle of Hoth even though we had alot of fun with Royal Rumble. We were using more or less the Hoth in under and hour squads that were made with some additional rebel forces to make up for the Edition of Blizzard 1... It would have been truley epic,
The Battle of Hoth in 1hour:
(we don't have enough snow speeders and not sure about canon's but this is a good start I think. Plus we need to add one more At-at)
Imps =
Blizzard 1 (200)
ATAT(150)
Vader IC (50)
Blizzard Scout 1 (54)
ATST (44)
Probe Droid (8)
6 Snowtroopers (42)
General Veers Hologram
Blizzard 1
Cost 200
HP 350
DEF 15
ATK 0
DAM 0
Special Abilities
Unique [Counts as General Veers]
Accurate Shot [Can attack an enemy with cover even if it's not the nearest enemy]
Colossal [Large and smaller characters may occupy squares on this character's base and are considered adjacent. Low objects and Large and smaller characters do not provide cover against this character's attack. Ignores movement costs to enter squares containing difficult terrain, low objects, and trenches. Never has cover. Cannot benefit from Bodyguard or Draw Fire.]
Damage Reduction 20 [Whenever this character takes damage, reduce the damage dealt by 20. Attacks with lightsabers ignore this special ability.]
Heavy Laser Cannon [1 activation: Make 2 attacks. Attack +6. On a hit, 60 damage to target and 20 damage to each character adjacent to that target; save 11. On a miss, 20 damage to the target and to each character adjacent to that target; save 11.]
Holographic Projection [Your squad may include General Veers, Hologram. Ignore the Unique ability's squad-building restrictions for purposes of this ability.]
Indiscriminate [When this character attacks an adjacent enemy, it ignores enemy abilities and commander effects that prevent targeting and attacking. These attacks cannot be redirected.]
Limited Field of Fire [This character can target only enemies in his forward arc]
Medium Blasters [1 activation: Make 2 attacks. Attack +10, Damage 20]
Mounted Weapon [Only allies with Mounted Weapon or adjacent allies with Gunner can combine fire with this character]
Overwhelming Power [Damage from this character's attacks cannot be prevented or redirected]
Rapport [Characters named AT-AT cost 50 less when in the same squad as this character]
Relentless [Moves forward only]
Staggered Activation 6 [Activates 6 times per round; each activation counts as 1 of your 2 activations in a phase. Each round, this character must use 4 activations to move or use move actions, 1 activation to use Heavy Laser Cannon, and 1 activation to use Medium Blasters. Not subject to commander effects.]
Stomp [Whenever this character moves, any characters occupying squares on its base or squares it moves into are immediately defeated. Characters can avoid this effect with a save of 6.]
Walk 2 [1 activation: Move up to 2 squares]
Weak Spots 10 [This character's Damage Reduction is reduced to 10 against attacks from adjacent enemies]
Commander Effect
Characters with Staggered Activation are subject to this effect:
Allied Imperial characters with Mounted Weapon gain Indiscriminate and Overwhelming Power.
Rebels= Wedges Snowspeeder(39)
Lukes Snowspeeder (45),
4 Snowspeeders (152)
5 Golan Turrets (104),
2 Atgar Cannons (30)
3 Elite Hoth Trooper (24)
2 Rebel Officers (26)
7 Hoth Troopers (42)