Okay, so it wasn't all about me. I asked for a new case to be opened, and my wife was going to pick me out a pack, b/c she is nearly as amazingly lucky as Obi-Dyl. Well, she, being the wonderful woman she is, picks me out two. One of them is super heavy, so I know what that meant . . .
Well, anyway, altogether, two packs, 3 VR's! Got the Rancor with a Chewie in the same pack, and Vader in the other! That makes up for the past packs where I got very little to be ecstatic about.
But the funniest thing yet to happen, is my wife looking at the Rancor, and deciding he looks like a painted Naked Mole Rat!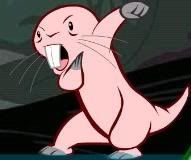 I can see the resemblance! So, henceforth, I will be referring to the Felucian Warrior on Rancor as . . . Rufus!