We do not know if this can become a reality, but it never hurts to check on things like this, so here are the basics.
The idea has been thrown out to see how much interest there might be to have a new print run done of our first VSet, Destiny of the Force.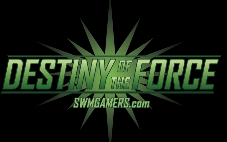 We "officially" ran out back in August at Gen Con, but it seems there might be some people who either missed out on the first opportunity, or have come into the game since then, and we want to give every one the chance to acquire a professionally printed set of the cards. If the interest is there, we could do another fundraiser to collect money for a print run of about 100 sets. I don't have the final numbers and such, but it would be somewhere around $1000 for the small print run.
We don't want to do anything like this to where it is a waste of time and money, so we put this out to you guys. If you would for sure be interested, or know people around you, in your playgroups, etc. who missed out, please speak up. If you don't need sets, but want to help out the community, if we fundraise, you can say something about that, as well. We'll keep an eye on this to see if it might become a possibility.