I am slowly making my overly verbose write-up of GenCon. Figured I'd better go ahead and break it up by day. Here's the breakdown for Wed night!
The 2012 GenCon Report
Another year, another meeting of the nerds. Over 41,000 geeks from all over the world come to Indianapolis for "The Best Four Days in Gaming". Really hard to argue. So much to do that sleeping and eating go by the wayside as we game until our brains are mush.
This year we were determined to have the ultimate hotel room. For years we have dreamt of staying at the Westin. It is directly across the street from the convention center, with a straight shot via skywalk into the area where most of our games are played. We have moved slowly closer each year, last year staying at another hotel also connected by skywalk, but at the far end of the convention center. By the way - the convention center is fricking big - the size of several football fields. We need the skywalk to hide our pasty skin from the sun. We need a close hotel because we have all kinds of gaming equipment to tote back and forth each day. Can't just waltz in and start playing - what are you, a n00b? (See this link for more info on N00bs:
http://www.urbandictionary.com/define.php?term=noob
) Gotta have your squad for each tournament that day (sometimes up to 4 in one day), your reinforcements, possible reserves, hit point counters, force point counters, override markers, destroyed door tokens, plenty of D-20s (20 sided dice for all you non-gamers), maps, pens, paper, snacks, other games (to play in between tournaments), extra figures and cards for trade, items to display, etc. And don't forget your GenCon badge for entry into the convention center - just ask Jake K about this year, or more dramatically, ask last year's world chmap Ian who was almost DQ'd before the finals since he had to go back to the hotel for his! So a close hotel is a top priority. AND we finally got it! Livin' the dream. We have a room at the Westin!
Of course they changed where our games are played for the first time in 6 years, and so now we are on the opposite side of the convention center. Last years hotel would have been better. Shake fist at sky, curse my cruel fate. Oh well - life goes on.
Wednesday:
We arrive Wed night and are aflutter with excitement. We pre-arranged for other Star Wars Minis players from around the country to meet up with us in the Lobby of the Westin for casual gaming on Wed night. We ordered pizza, brought some beer (and whiskey), and cornered several tables for the carnage.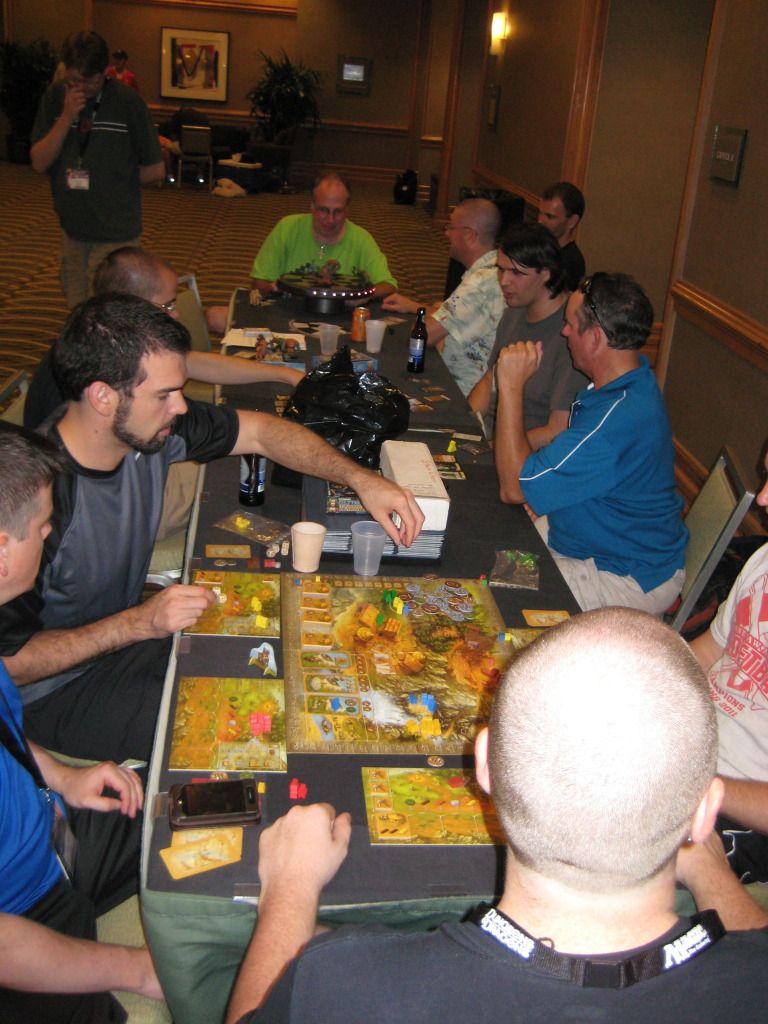 We don't play minis tonight, we play all sorts of other fun games. Citadels, Dominion, Kung-Fu, Stone Age, Dejarik (That's the holo-chess board on the Millennium Falcon that Chewy and R2 play in Star Wars, and yes we made it into a real game),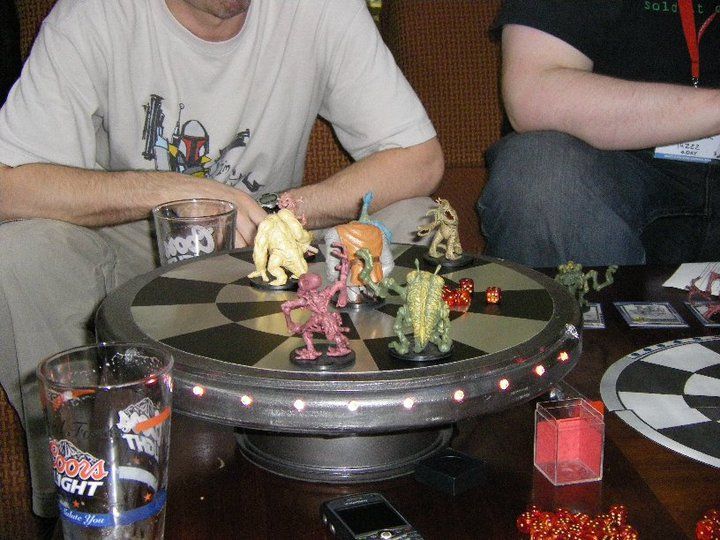 Weed, Werewolf and many more. We play casually and are greeted by more and more groups of Star Wars Minatures players, some of whom we haven't seen in real life for a year or more. It is a tight knit community, and so in many ways it's like seeing old friends.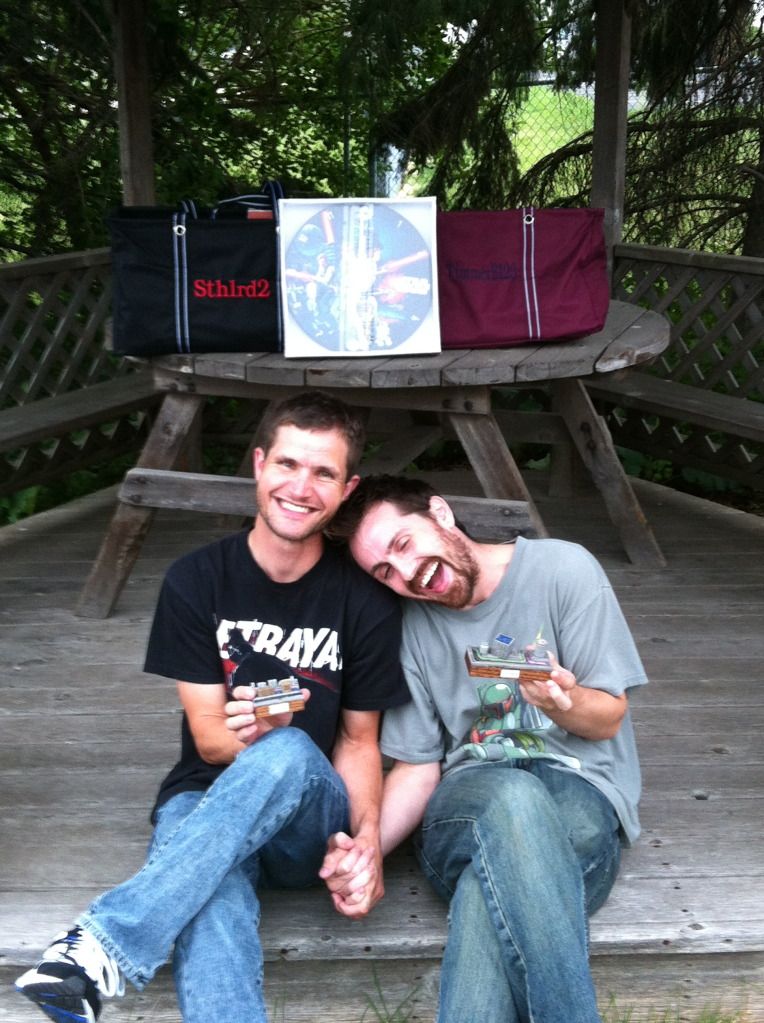 Until we're sitting across from each other in a competitive game, and then we are mortal enemies.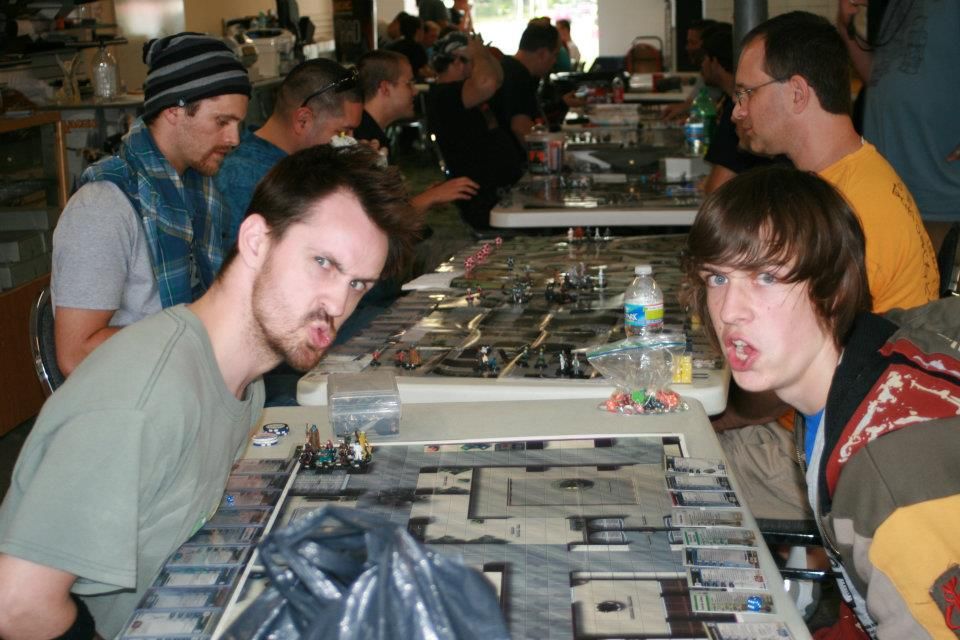 Several pizzas and many 6 packs later, it's quite the scene. Bunches of nerds all huddled in several groups playing different games in various states of inebriation. One highlight of the weekend was a friend of one of the minis players who fancied himself a jock challenged me to a wrestling match. He is a big lacrosse player, he even made the 1996 Lacrosse Olympic team (then it was dropped as an Olympic sport for beach volleyball). Well it's been many years, but I was an All-American wrestler. But he is approximately twice my size. Didn't stop me, I proceeded to take him down and pin him in under 30 seconds. Right there on the carpet in the lobby of an upscale hotel. Yeah - I still got it. Only cost me a rug burn on my elbow when I was pinning him. Another highlight of the night was playing werewolf for the first time. This game has obviously spread like wildfire, and it seems like anywhere you went in the convention hall people were playing it. Circles of weirdos dressed in all kinds of nerd gear smacking their legs with their eyes closed and making mute gestures, followed by gruesome descriptions of how a werewolf killed a villager that night.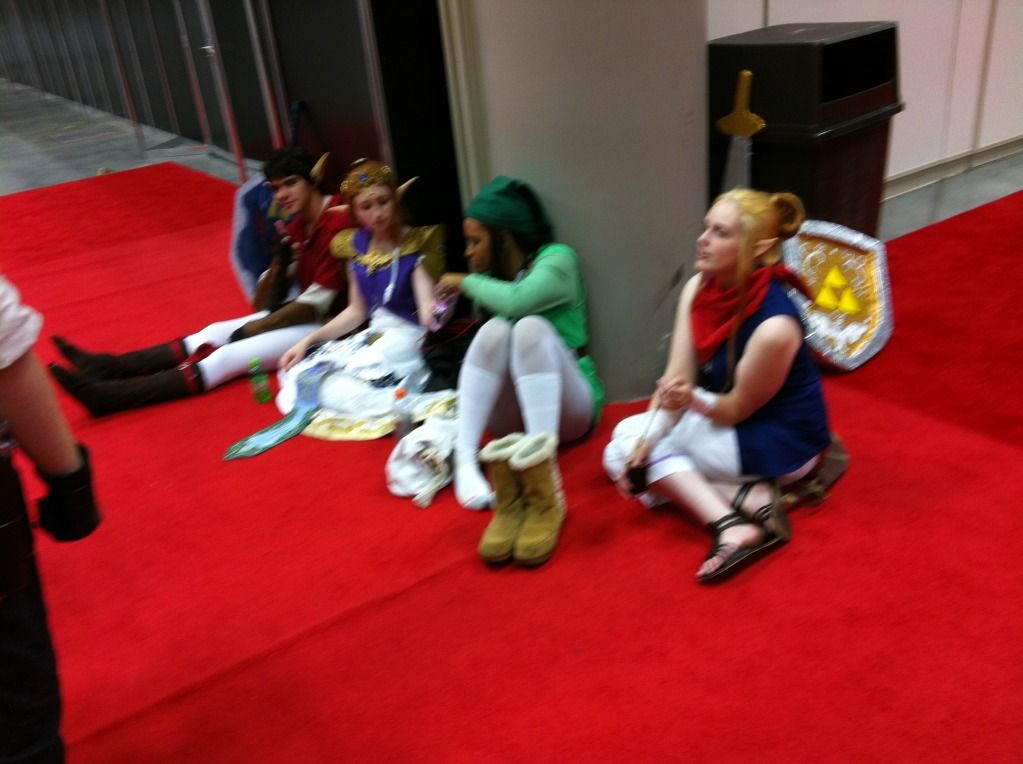 The game is mind numbingly simple to learn (really simple for anyone - not "simple" to just uber-geeks who play insanely complicated games regularly). There are 3 werewolves, a "seer" (or private eye depending on the version you play), a game master, and the rest are villagers. The game master doles out the roles in secret, and the werewolves try and kill while not being discovered, and the villagers try and lynch the werewolves. Everyone closes their eyes, and clap or smack their leg to add background noise, then the werewolves wake up and go hunting. They all agree upon and pick one victim silently (through gestures). Then they close their eyes and only the seer opens theirs, and gets one guess at who a werewolf is by pointing. The game master gives thumbs up or down if the person the seer guessed is a werewolf. Then everyone wakes up, and the game master gives an entertainingly gruesome story as to who has been killed by the werewolves. That person leaves the circle and the debate begins. Villagers try and agree on who to kill, hoping it's a werewolf. Werewolves, now in their human form, try and convince everyone to kill someone else while not giving away the fact that they are a werewolf. The seer tries to convince everyone to pick a werewolf, or at least not kill a villager they know is innocent, all the while trying not to give away the fact that they are the seer, lest they be the next werewolf victim. A vote is taken, and that person is killed, werewolf or not. Game proceeds until there are either no werewolves or no Villagers left. Will you survive the night? Our game was made superb by the fact that we had an excellent game master. Graham Bingham lead the chaos, with vigorous energy and extraordinary word-smithery. Each grisly slaughtering of a villager by the werewolves had a unique and graphic tale, painting a picture of horrific delight. My first game was also made excellent by the fact that my buddy Lou and I were the only surviving villagers, finally killing off the last pesky werewolf. We swore to re-populate the village. Later games became so frenzied that we were pounding and chanting (I guess I started the chanting) so loudly, that the security guard came over because he though we were making sacrifices. Ahhh, GenCon. That more or less wrapped up Wednesday night. We were the smart ones that hosted in the lobby of our hotel, so while we simply hopped in the elevator, everyone else stumbled, or cabbed it back to their hotels. It was the wee hours of the morning when we finished, and GenCon hadn't even officially started yet!