I've been thinking about this a lot, but Matt has made it much easier with the pics to post about it.
First, the easy part. I think there's little point in early distinction between Standard and Open. Pretty much everything that doesn't have some obvious problem or exhibit close similarities to a known problematic map, or is clearly a scenario map should be on the Standard List. We can err on on the optimistic side here and avoid trying to "test" 30 maps for Standard/Open qualification.
So "default" is standard. From there a map must prove itself exceptionally good or bad to be moved to one of the other lists. As noted, Restricted is significantly more important to get right at the outset. If we err a bit on the Standard list it's easy enough to correct at 6 month intervals by dropping bad/unpopular maps to Open.
For Restricted my personal starting point would be the criteria previously used for the Restricted List and trying to accomodate, if possible, at least one map from each of the map packs, and at least one side of the West posters, though asking every poster to make restricted is a bit much considering there's only two to choose from. And unlike Standard/Open, for Restricted/Standard it's probably best to err on the side of caution and have a few maps that might be "elevated" to Restricted later.
1.
Reasonable advancement possibilities
(even without movement breakers) is one of the biggest. Can a characeter have a chance to quickly and safely move to gambit?
2.
No across the board LOS.
I beleive that you should be able to not be attacked on any map if you choose to set up defensively. (Example - on Hoth - no matter how you set up - you can be decimated in round one.)
3.
Walls in Gambit.
Walls - not just cover, and not even doors. Ask yourself one question - can I be attacked in every square in gambit from the apponents starting area? If it's a "yes", the map has to go. This way you can, and MUST advance to gambit where action takes place.
4.
No major squad exploitation.
This one is the most subjectively difficult to assess from just looking at the map. Does a particular type of squad have an unresonably huge advantage due to the particular layout of the maps? Some examples--flying shooters on Arena. Cloak/Superstealth on Korriban. Rebel Cannon squads on Teth Monastery. And recently, deep strike (Kybuck/Lancer) squads must be considered as potentially abusive on any random map due to their massive speed and crowd control. You only really need to consider this one if 1-3 pass so the tough work only needs to be done on a small number of maps.
JC Map Pack 1
Theed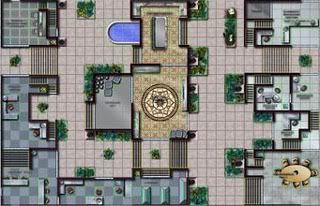 Safe starts, easy approaches and a gambit design that lets you put a wall between wherever your opponemt might be trying to snipe from. Proven favorite over time by many competetive players. There is the annoyance of the "mistake" cover-line and JC's personal concern about the elevation mismatch but I think those things are easy enough to ignore to let a MP1 map into the restricted list.
(Omitted: Taris Lower City, Mandalorian Camp on Dxun, Jedi Enclave, Felucia, Echo Base)
JC Map Pack 2
Anchorhead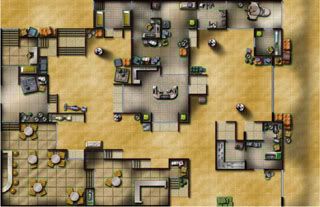 Good starts and approaches. Like most of the maps in this set, how open gambit is presents the primary weakness. Looking over the packs options, this one seems to have the best layout. Some longish horizontal LOSes into gambit do exist particularly from the left side once the primary door is taken care of. It's borderline, but given only one side has the problem, and the opposing player gets to choose side it's probably managable.
(Omitted: Ughnaught Mines, Mustafar, Blackpit Slums, Old Casino, Korriban, Khoonda Settlement, Kashyyyk Treetop City)
JC Map Pack 3 (Desert City Invasion)
Residential Area
The best choice from this set, though it pales in comparison to other sets. Starts and approaches are fine, but the gambit design is on the weak side for the Restricted list with the very long LOS available to left once doors are taken care of. Still, if you bring the map the odds of getting left are slim to none, so the map remains in the running.
(Omitted: Yavin Ruins, Yavin Sanctuary, Star Forge, Outer Rim Fueling Station, Tatooine 1-3)
JC Map Pack 4 (Strongholds)
Lots of options here. The most consistent of any pack. Keep in mind I haven't even played on each of them once yet, so this is based only on visual inspection. I've placed them loosely in order of preference.
JC4
Spynet HQ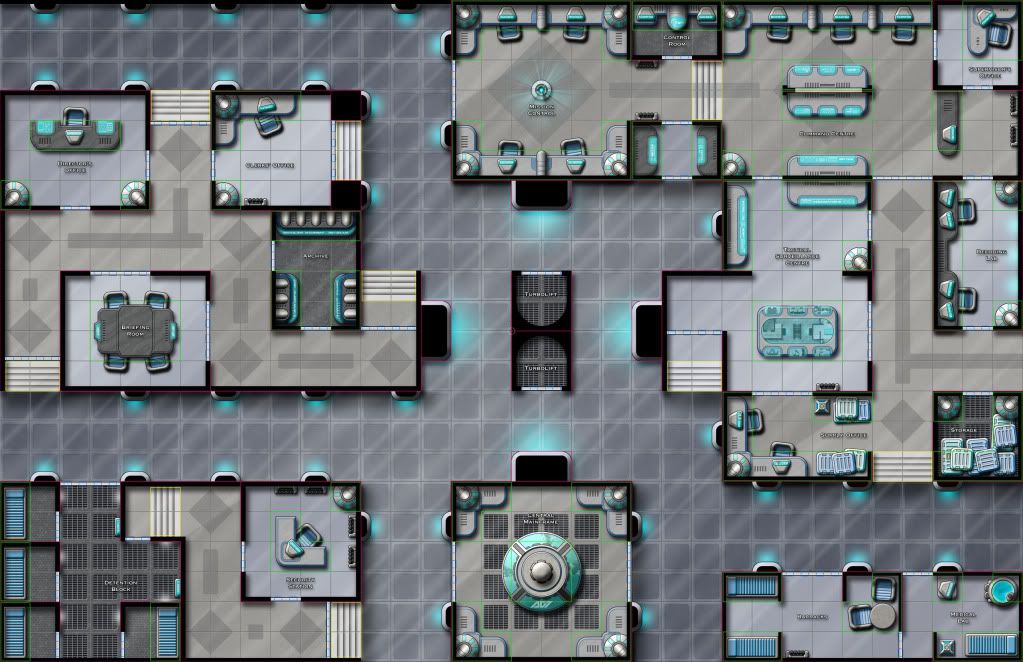 Safe starts and decent approaches. Really unique gambit design with short LOSes, but little cover. Strong design.
Asteroid Base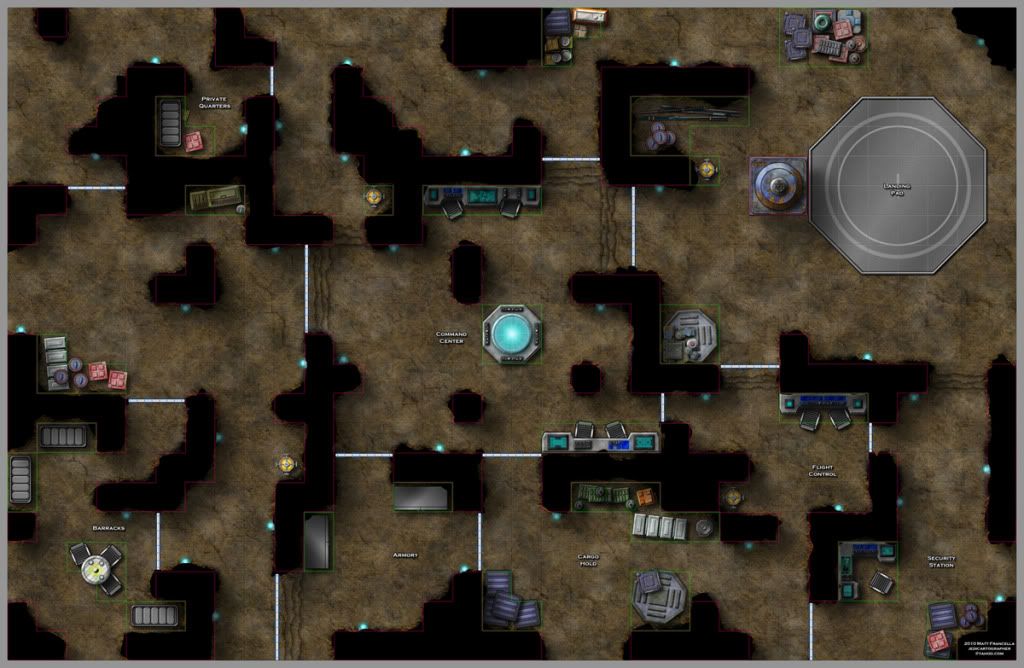 Jabba's Throne Room
Good starts and easy approaches. Left seems to have a significant advantage in the gambit protection, but not a major issue since left is reasonable safe from long-range sniping too.
Spice Mines of Kessel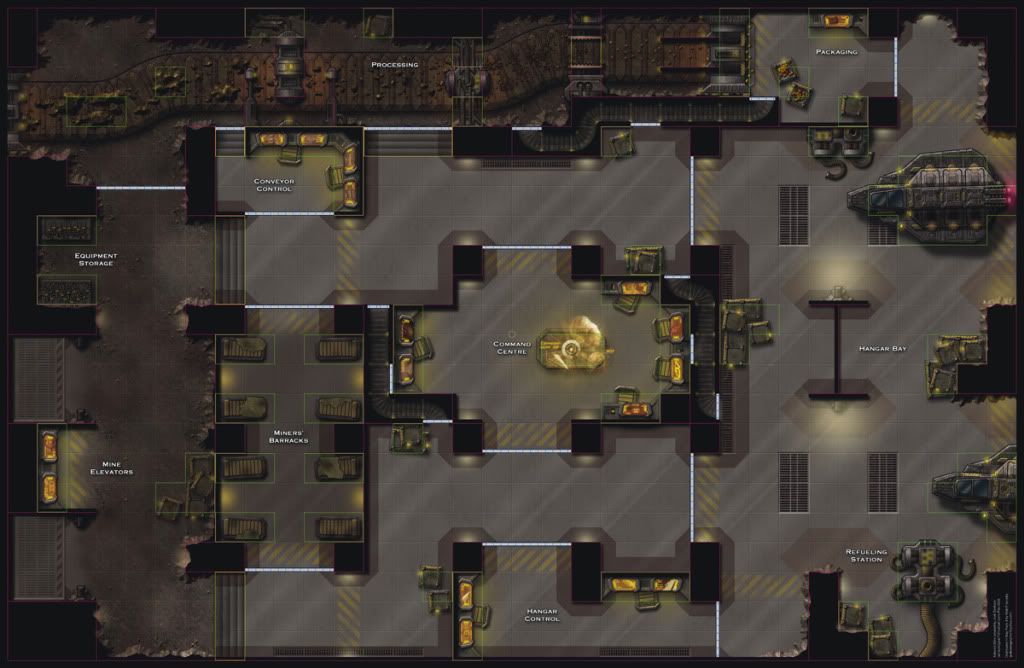 Good starts. Approaches can be a bit tough as you try to get doors while not being vulnerable to sniping. Gambit is good from three sides--only the bottom has a very long LOS once the doors are taken care of.
Peaceful City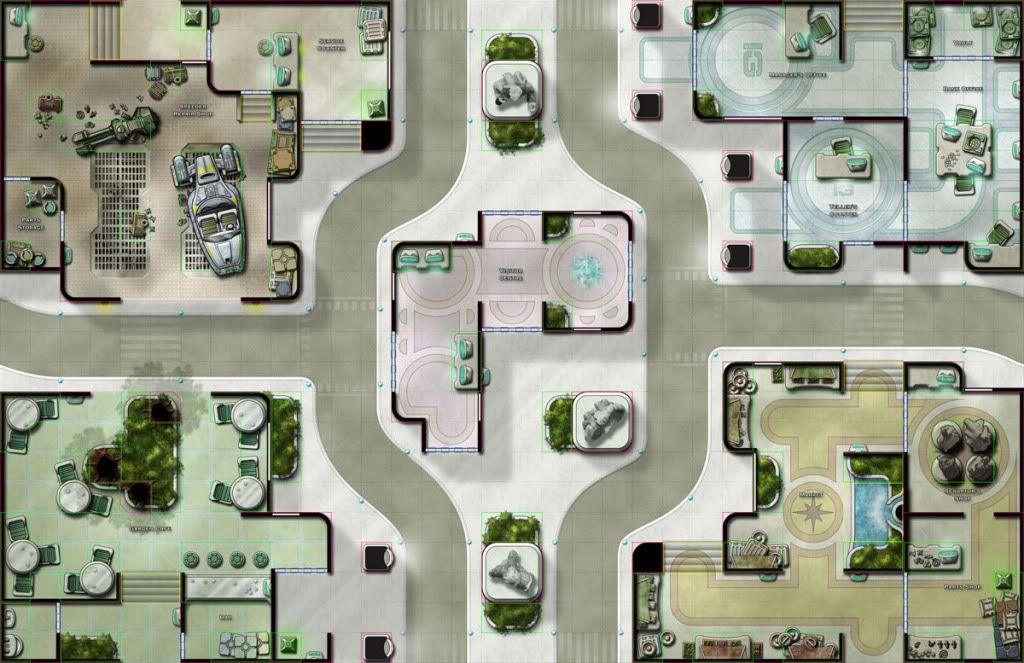 Safe starts. Approaches can be a bit tough as they're somewhat vulnerable to diagonal sniping. Fairly long LOS into gambit from the top/bottom ones the doors are taken care of.
Rhen Var Citadel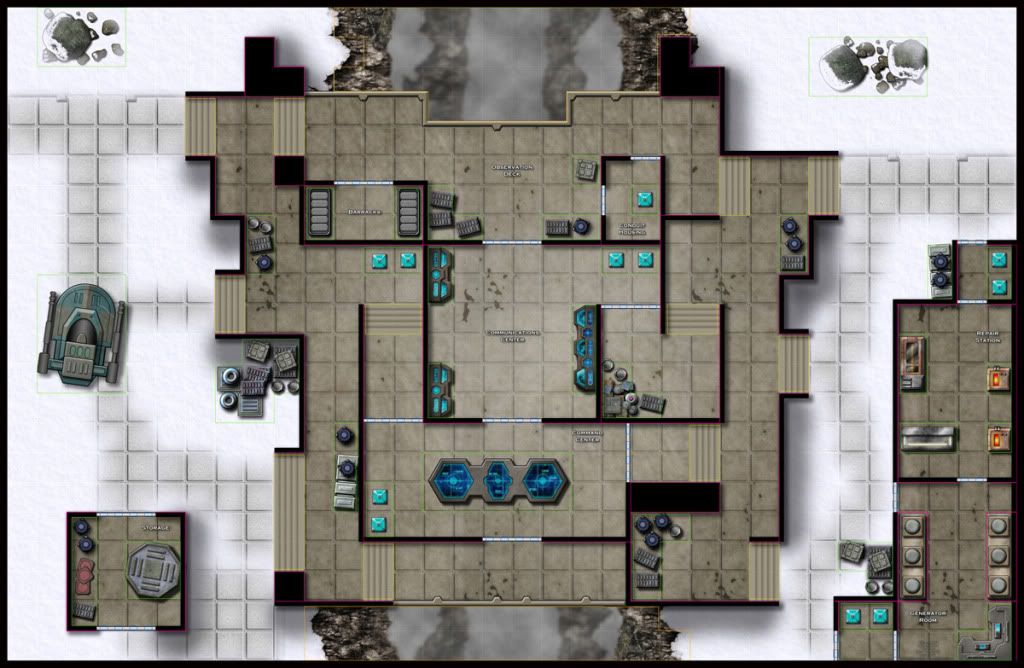 Safe starts. Unique layout with the gambit approaches all from the side. Gambit's quite open once the entry doors are dealt with. The weakness lies there. Will a puddle jumping flier allow too much control of gambit making it suicide for a melee squad to try to force an approach? The chase factor is a concern...
(Omitted: Royal Palace, Grand Atrium)
MoM Poster 1 (Mass Transit)
Offworld Shipping Center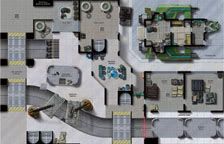 OSC has protected starts, easy approaches, and mostly protected Gambit. The weakest point here is the longish LOS from left into gambit once the central door is blown. There's also the minor error of a "door that's not a door" in the southeast quadrant but that's nothing we haven't seen on WotC maps and not a dealbreaker. It's all about that one LOS.
(Omitted: Exodus Class Cruiser)
MoM Poster 2 (Forsaken Lands)
Swamp Caves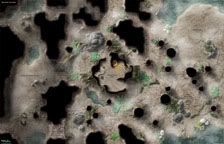 Over time this one has proved to play much tighter than it looks. Movement can be tough, but not in a way detrimental to gameplay. Protected starts, great Gambit protection and moderately safe approaches from both sides meet the criteria. The weakness here is the recent phenomena of extreme range Lancer/Kybuck strikes on a map with no doors. Is going from Rancor Pen's one door to this map's zero doors too advantageous for deep strike squads? It's a legitimate question, and the answer determines its fate.
(Omitted: Desert Sanctum)
MoM Poster 3 (Mass Transit II)
The only MoM poster where there's a real competition between the two sides...
Loading Docks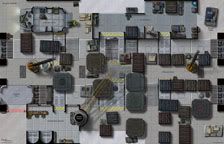 The tightest map we've ever seen. Easily meets the start and approach requirements. The line from the bottom center is pretty long into most of gambit--the weakest point of the typical criteria. There's a minor problem here that even with the new rigid rules, a huge on the right can't reach gambit. It's a unique map, and offering something different within the rigorous standards of the Restricted list would be nice, so I'm pulling for this one.
Offworld Transport Facility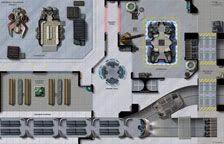 Safe Starts and protected approaches. Gambit is the weakest point here where it's quite open to fairly long LOS from both side once the center/low doors are controlled. Quite similar to Offworld Shipping Center--it's fate rests on the "how long is too long" to give melee a real chance at forcing engagement by controlling gambit. If Loading Docks is considered too potentially problematic, this one is a not unreasonable fallback, particularly if OSC is already making the cut.
MoM Poster 4 (Forsaken Lands II)
Badlands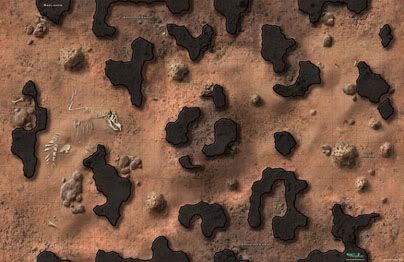 Quite similar to Swamp Caves. Safe starts and moderately safe approaches. Great, protected gambit. Movement is much easier/faster here with the wide corridors and very limited yellow/green squares. The question here, just like Swamp Caves is whether it gives too much advantage to a very limited set of deep strike builds.
(Omitted: Deep Caverns)
Wildcard (never widely distributed)
Smuggler's Base
One of my longtime favorite custom maps and one of the few I've printed out myself. Safe starts, good approaches, and a great gambit area that forces engagement but still leaves some room for different avenues of attack. Stellar competetive map. If JC decides to reprint Theed, I hope there's the possibility of this being on the back.