Got to play on my Mos Eisley Spaceport 3D terrain last week, took some photos. I don't have it gridded yet, but we played on it easily without the 1-inch squares.
It ended up being a really well balanced scenario. My friend Squid89 has made the Cantina and all the patrons, so we included a recruitment scenario where a player could become adjacent to a particular patron to recruit them into your squad. You could do this for a cost of 10 hp. You then could only recruit two per activation, up to four new characters to add to your squad in one round if you placed two pieces adjacent to two characters each.
We also added victory parameters to the game too. For the Rebels, four uniques, Luke, Obi-Wan, Han, Chewie or Biggs had to leave the Cantina and make it through town to Docking Bay 94 to win. The Imperials were the resistance.
As well, as an added bonus, the Rebels could add in RS Luke, Rebel and RS Obi-Wan if they were defeated in the Landspeeder, entering the board in that location, but at half their hit points.
I ended up losing Obi-Wan on a Riposte and had already lost Luke on the prior attack to lose the scenario. Had I avoided the riposte, I would have made it to Docking Bay 94 and won.
We started out with 200 point squads.
Very enjoyable scenario.
Enjoy the pics.
http://s79.photobucket.com/albums/j127/ ... %20Eisley/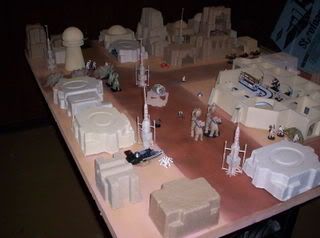 -b