---
I used to spend a lot of time on WOTC; migrated to Bloo when the ancestral home faded away. Came to Gamers occasionally but really only had time for one site. Thought I'd put these here for anyone interested.

I've been doing cards for 4-5 years. Some are old cards/ideas, some new. Apologies to any toes I may have inadvertently stepped on. Some have since come out in various V-Sets, but I've stuck to my own versions, whether I saw the idea somewhere else or made it up myself. Any resemblance to my work to anyone living or dead is strictly a coincidence, etc. No, I didn't draw any of these pics, I surfed them and claim none; if its your, apologies etc.



Fringe.

In no particular order ....

Terellian Thief



Ugnaught Traps



Vilmarh Grahrk. Always thought he should have had a Real mini, and with better stats. I suspect he may pop up in that Live Action TV show with Quinlan Vos.



Selkath Smuggler



Selkath Fringer



Rakata Bounty Hunter. Something Different; with the Rakata poping up again in TOR game, why not?



Czerka Security Chief. Another attempt at making cheap fodder.



Czerka Corporate Security



Dashade Warrior



Viqi Shesh. I made her a Fringe; couldn't see her as an NR piece since she's a traitor, and she's not a YV.



Peace Brigade Recruiter. Something to make these guys more interesting.



UtaiWorker. If you can blow a door, why not rebuild one?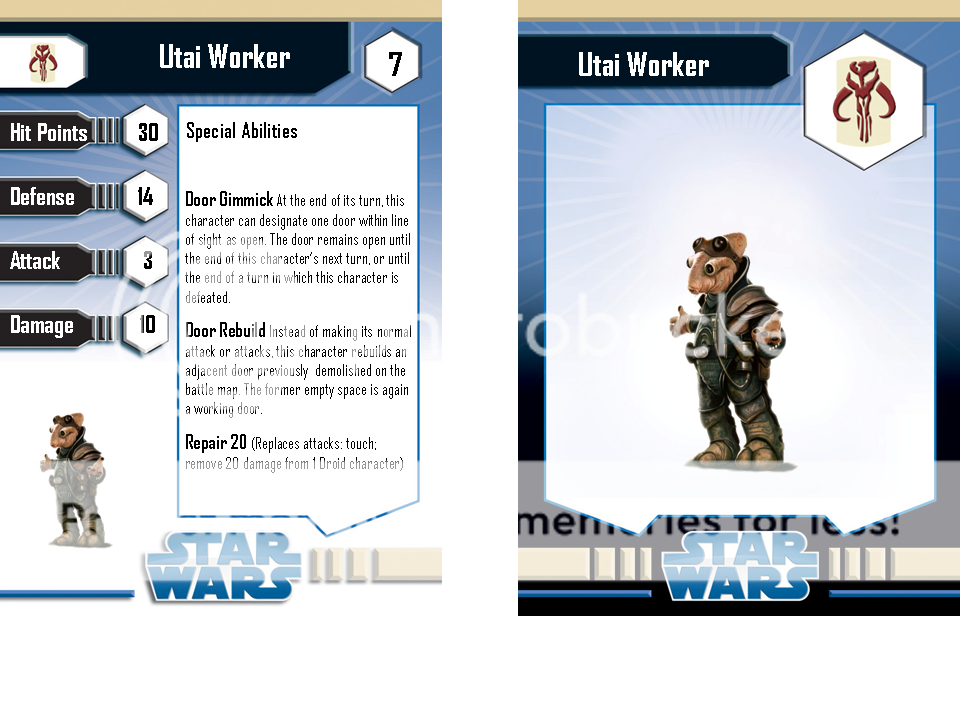 Black Sun Tech Trader. Why can't they sell illegal B&E stuff?



Alderaan Smuggler



Cerean Mercenary Tactician. Another older piece that's been altered slightly.



Kaleesh Fringer Leader. I think this piece might make some of those cheap Fringer pieces more useful than just being dust collecters.



Mercenary Comm Specialist. A "Relay Orders" piece that might survive a little longer.



Human Black Sun Vigo



Hylo Visz will be popping up around here soon. I see her as a female version of Dash.



Human Adventurer



Cato Parasitti … interesting but not as "good" as Bane so my takes not as strong as a top BH.



Veteran Smuggler. Liked the pic, not sure what TOR characters will be like ...



Rattataki Gunman



Mon Calamari Hired Gun



Gungan Marauder



Docking Bay Roustabout, A Galactic longshoreman ... lots of maps with Dock/port facilities ..



Todo360



I noticed the V-Sets had a Zann Underboss; I'd made a Zann Faction card and pieces to go with them a few years ago so I thought I'd show them now.

Zann Consortium

My Version of Zann himself



Zann's lieutenants
Urai Fen



Silri, Dathomir Nightsister



I always thought a Defilers main job was to sow dissention and corruption, but short of Force Corruption, the closet I could find without creating something was Disruptive. I vaguely recall in the game they had Disrupters; I thought Disintegration would be more fun ……

Defiler



Ewok Handler. Blowing up Ewoks ... someone in that company had an interestingly twisted mind ….



Ewok Bomb



Zann Consortium Trooper



Nar Shaddaan Enforcer. Came up with the idea of a Hutt enforcer



Never liked the idea that the Heavy Weapon ability limited certain pieces that could have otherwise been interesting. With the Fringer leader piece I made this could really do some fun things with the Gotal Fringer, and the Klatooinian Hunter could be made more usable.
Czerka Arms Dealer



Trandoshan Slaver. I always thought whichever Transdoshan was picking on Wookies must have been tough.



Toydarian Ruffian. Do all Toydarians look like Watto?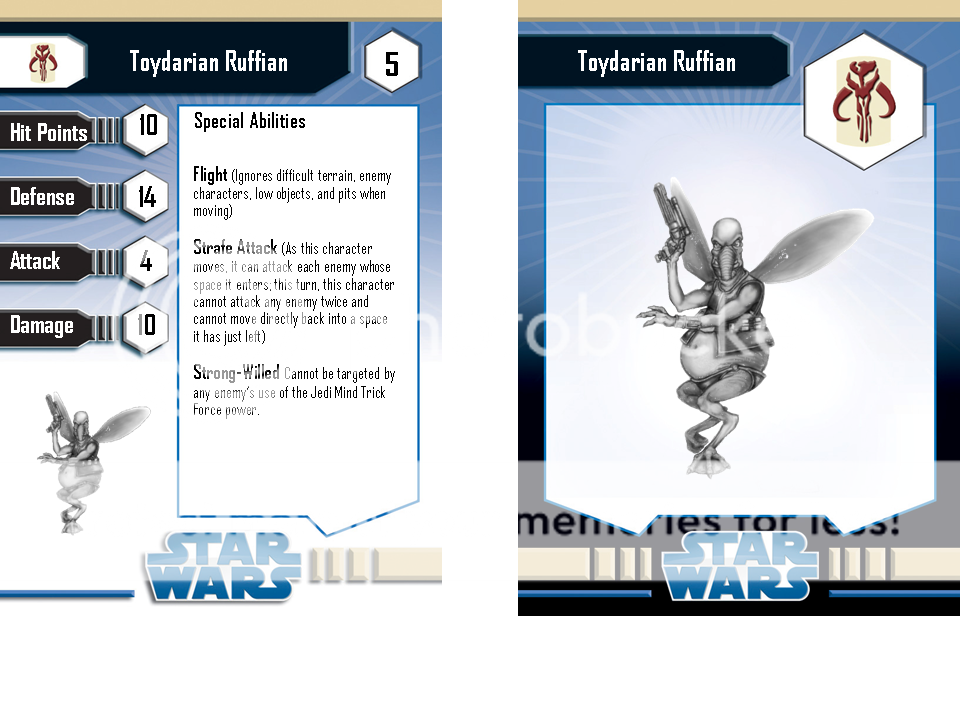 Swoop Bike. Just a whimsical idea ......



Rianna Saren. Never played the game but was intrigued by the character ......



Neimoidian Outlaw



Khaleen Hentz. She must have been reasonably tough to survive the life she led .....



Ithorian Clan Leader. Always liked the Ithorian Commanders CE; thought it was a shame it was limited to the Rebels.



Ithorian Fighter



Comments, criticism welcome as always …..