Well, first off I want to say that this is probably my lousiest and my worst cuustom ever made so far. Like, seriously it looks really lame and kinda stupid in the end. I don't know, you can judge for yourself. In short; just wanted to say that now so that some of you don't think that this is what ALL my customs look like (well, at least i HOPE not, lol)...
Also, these pics for some reason weren't as "crystal clear" as the other ones are. I really don't know who except maybe the fact taht the duros has too many neutral (like beige) on and that he lacks detail for my camera to pick up.
In additon, my steps are really bad this time. This was kinda a failure due to the fact that i kinda did the steps wrong (i.e.: in a not-so-good order), and i messed up a bunch. So please deal with it.
So this custom is how to make a Duros with a stomache or being shot -- you choose. It can go either way LOL.
To make this (extremely lame) custom, you do NOT need...:
-Paint
-Modeling Putty
-Any V/R pieces
-Experience (This is only my 5th project...i think)
What you DO need is:
-Superglue
-Xacto knife
-Clothes Pin
-Paper Clip (Use it to spread out the superglue)
-Tools (i.e.: Pliers/tweezers, wire cutter, etc.)
-A bendable grippy/tweezer thing...i can't really explain what it is it's like a base and a bendable wire-tweezer comes out of it...it's really helpful to hold some drying pieces in place while you work on other parts--*STRONGLY RECOMMENDED* if you want some pics of this i'll post some to someone's request.
-Scratch piece of cardboard as a "knifing" surface so you don't scratch your table or whatever while working
-x1 Duros Scout (IE)
Alright. First, take, your Duros and cut both his legs off about 2-3 mm above his red boot-things. This part was actually pretty hard since you don't really have any leverage to cut (actually, it just occured to me that i can lay his legs on a piece of raised ground and then cut...oh well):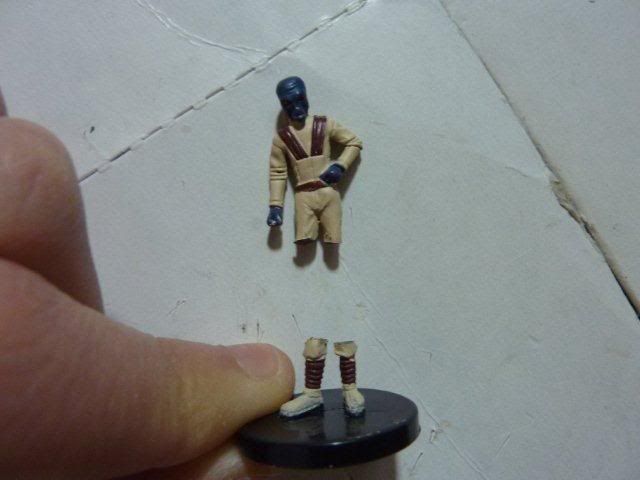 Next, trim his legs (preferably the top part attached to his body since it'll be easier to cut) in a diagonal slant starting (assume you're cutting his top half of his leg) from the back of the leg and downwards so that when you reattach his now trimmed legs to their bottom counterpart; it should look something like so (leaned back a bit):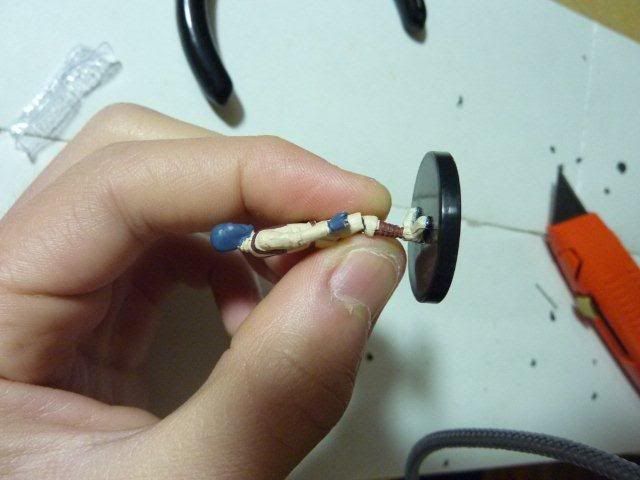 Next, cut off his left hand from his body. Try to get most to all of his hand cut off. You should be leaving a gray gash in his side: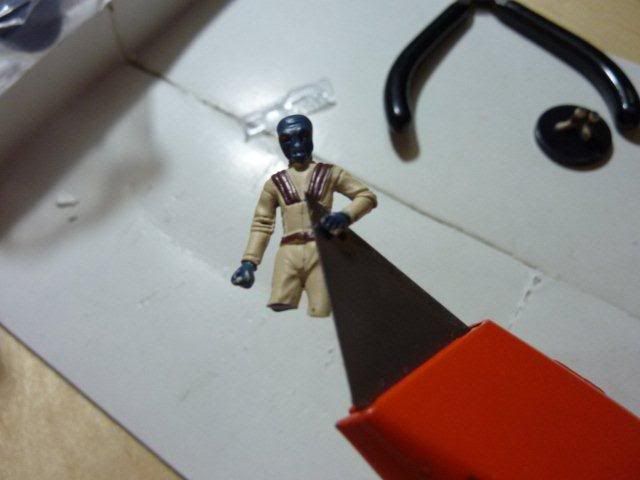 Now, cut (the same arm) at around his elbow. Start at the inside of his elbow and cut directly vertical (downwards) so that the cut should leave a surface that's basically flat next to the front of his body. You'll see in the picture what i'm talking about. Sorry if this step is confusing: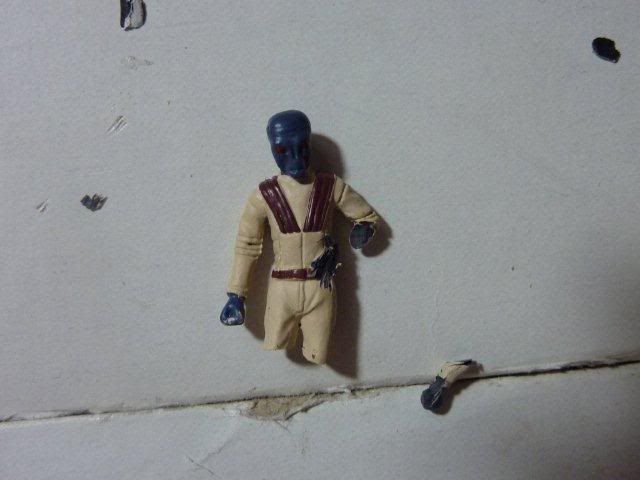 Next, cut his other arm right above his elbow; i.e.: the little beige stripes on his arm. Cut straight across; or something to that effect: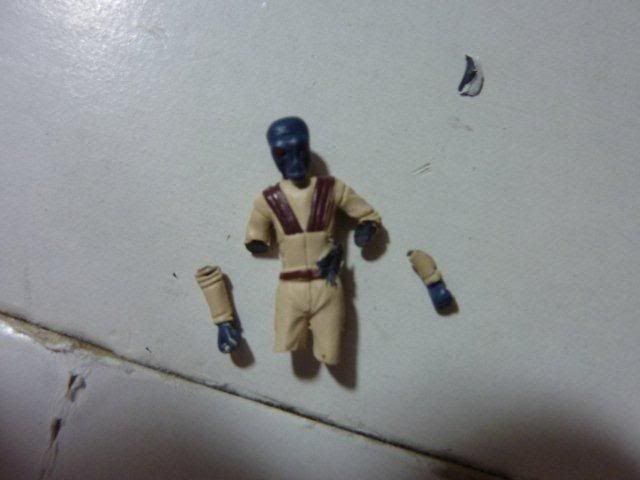 Next, cut off the Duro's left arm, directly downwards so that the left side of his body is basically a straight line; like so:
Now, trim the top part of the Duro's left arm which you just cut off. Trim and cut slantwise from the INSIDE of the arm about 2-3 mm (creating a triangle-shaped piece) and turn the piece 180 degrees and glue it to the Duro's body where his left arm should go. In the three pictures below, the first two are showing how i trimmed the arm (unfortunately i had to cut twice since the first one was too skinny -- also, in the first picture the trimming got flipped when the picture was taken so it looks like i cut from the outside but i didnt). The third picture shows the Duros with his newly glued arm trimming where his left arm should be: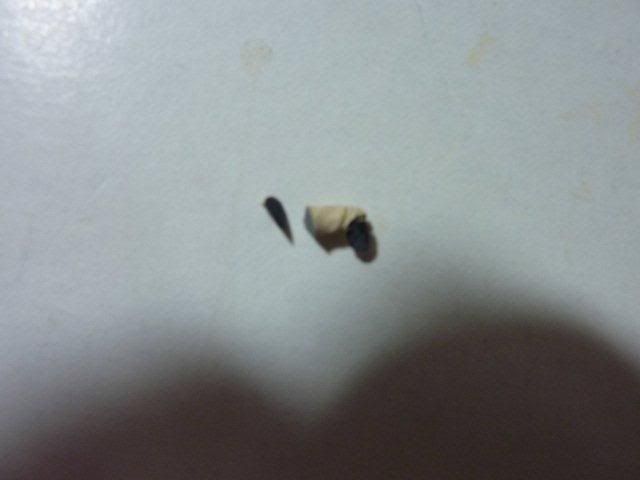 NOTE: the following pictures may look different than what your custom is. IT'S OK BECAUSE I AM POSTING THESE FOLLOWING PICS OUT OF ORDER SO THAT THE STEPS ARE EASIER TO DO.
Alright. Now that we got that out of the way...
. Cut the Duro's body at the waist right above his red belt: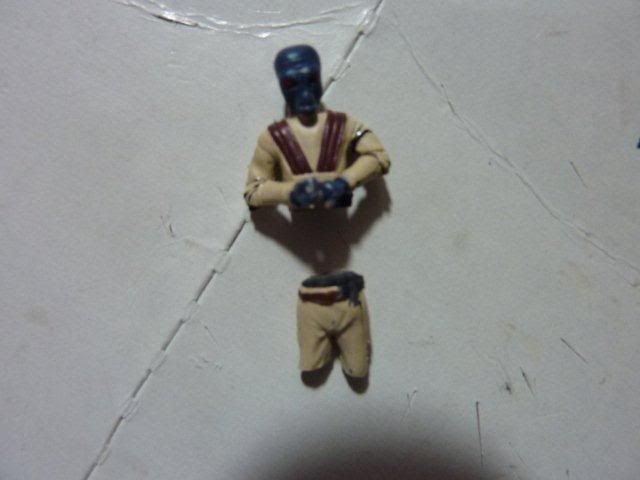 Next, cut off the Duro's belt from the front and cut diagonally upwards; away from the legs. Basically, the cut off piece should look thick in the front and extremely skinny in the back:
Next, glue the Duro's waist-legs part back to the lower half of his legs. It should (when looking at him from the side) have a small tilt backwards: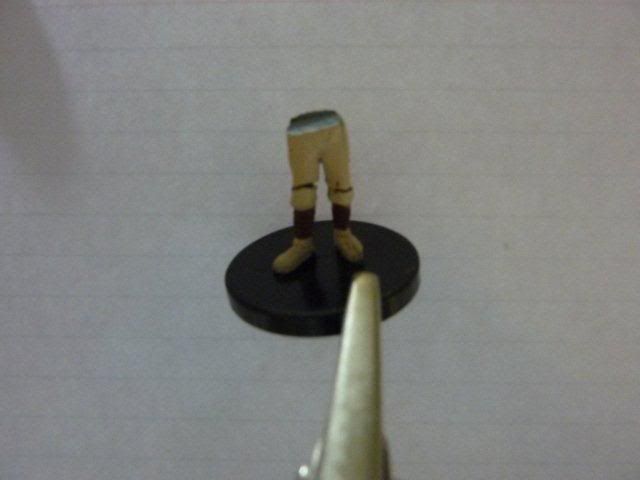 Next, take your Duro's upper half of the body while the lower half is drying. Glue the Duro's left arm (both parts) back onto the left part which you glued a while ago. Glue the elbow parrt first; then the hand part. I strongly recommend holding the pieces in place before gluing so that you know how to glue the pieces and what angle they should go in. You're going to want to have the hand basically be over his stomach/middle area of his body -- doesn't have to be exact; it can be a little off to the left or whatever: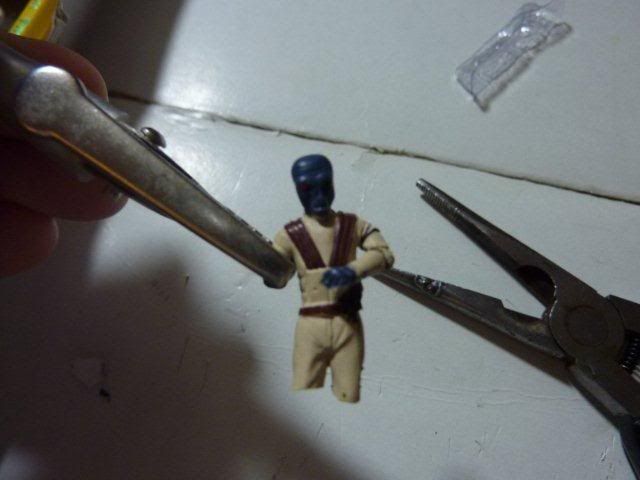 Next, while this is drying, take out the Duro's cut off right arm. Position the arm on your cutting surface so that the hole of his fist is facing upwards (towards the ceiling). Cut off a slant from the top of the arm at approxtimately a 45 degree angle; like so: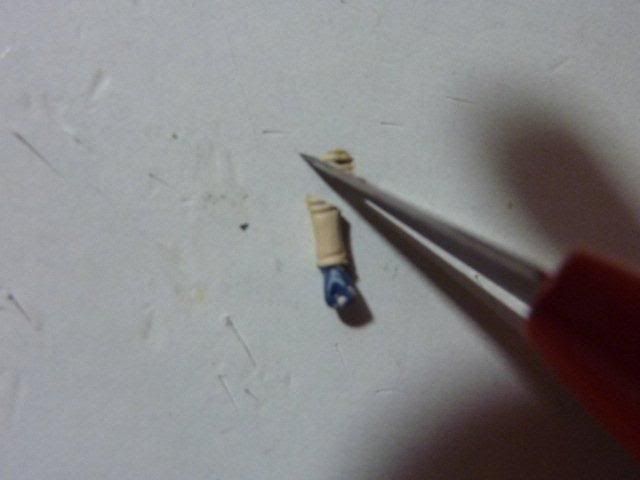 Now, glue this trimmed piece back to the Duro's upper part of his right arm, angling the piece so that the flat surface is facing to the left (the Duro's left):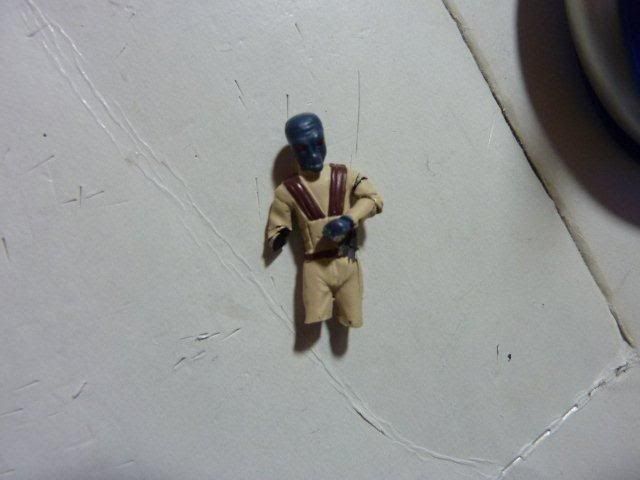 Now, glue the hand-arm of the Duro's right arm to the top half of his arm. Angle the piece so that it's basically touching the left hand; either above it or to the side of it. You can place drops of glue to the Duro's hands so that they stay together and/or stay against the Duro's body: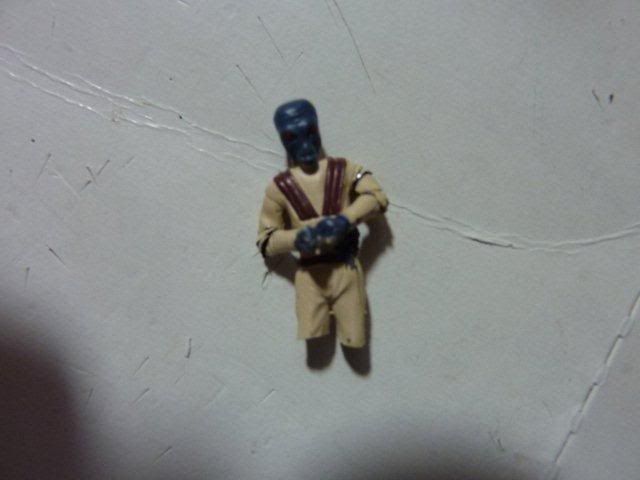 Next, take that trimmed belt piece that you cut before in this project. Glue it so the thicker side is in the back and the really skinny side is in the front, like so (note: this picture is taken from the BACK of the duros...):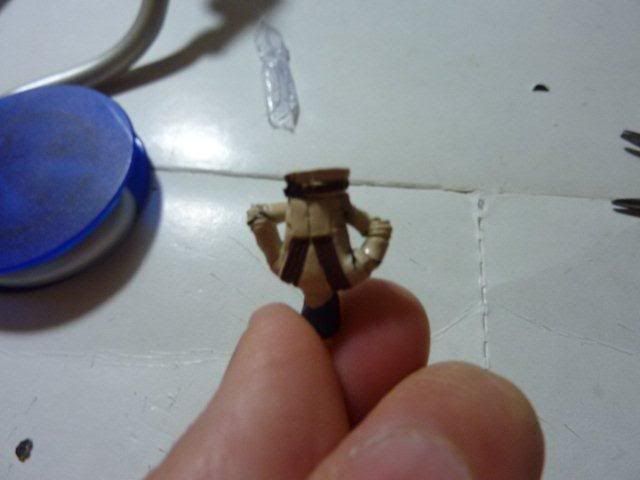 Sideways view:
Finally, glue his upper waist back on to his lower waist! You're finished! Now you can show your friends a cool Cad Bane figure that ate a little too much seafood; or a lot of sloppy joes! Ya know, i'm thinking about taking and cutting off one of Rex 501st's jets; repainting it brown, and sticking it coming from the Duro's lower backside. Mwahahahaha. Or maybe i'll cut off a small piece of a light red lightsaber and stick it in front of his hands so that it looks like he's just been shot...or maybe i'll take a sith/jedi and remodel him to have his lightsaber go through him. Who knows? Here's my finished pictures: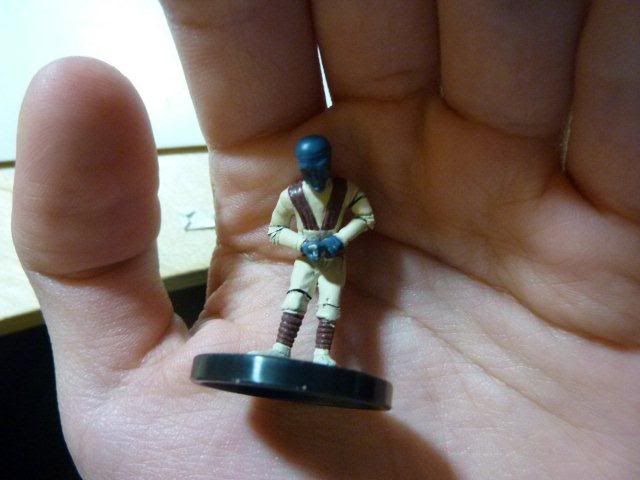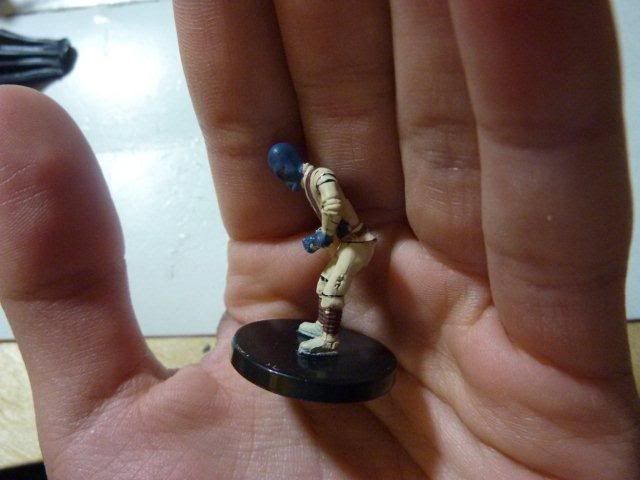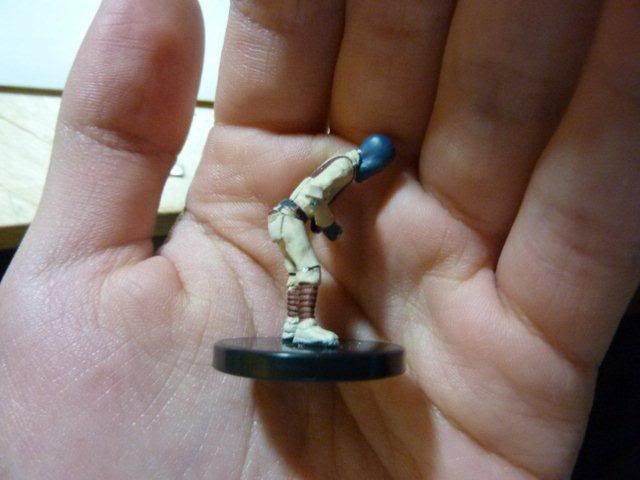 ...and here's a picture of a scenario of a stormtrooper blasting this guy:
Again, sorry guys if you were disappointed with this custom...but don't worry! I have a new custom on the way...actually, it's customs...(hint hint)...
Questions and comments are always welcome. Thanks!