OK, this is basically a ghetto custom using your old pieces from the 2nd custom project (How to make a choked-clone). You also need one other common figure though:
To make this (ghetto) custom, you do NOT need...:
-Paint
-Modeling Putty
-Any V/R pieces
-Experience (Even though this is my 3rd custom; it's a really really simple one)
What you DO need is:
-Superglue
-Xacto knife
-Clothes Pin
-Paper Clip (Use it to spread out the superglue)
-Tools(i.e.: Pliers, Wire Cutter, etc.)
-Scratch piece of cardboard as a "knifing" surface so you don't scratch your table or whatever while working
-x1 Head and the gun of Clone Trooper with Night Vision
-x1 Body of Elite Clone Grenadier
-x1 GenoHaradan Assassin
OK. First take out your Assassin piece. Cut off his right (sword) arm at his shoulder like so:
Cut off another part of the assassin's same (cut off) arm, so that the arm with sword in hand has a flat rather than angled end: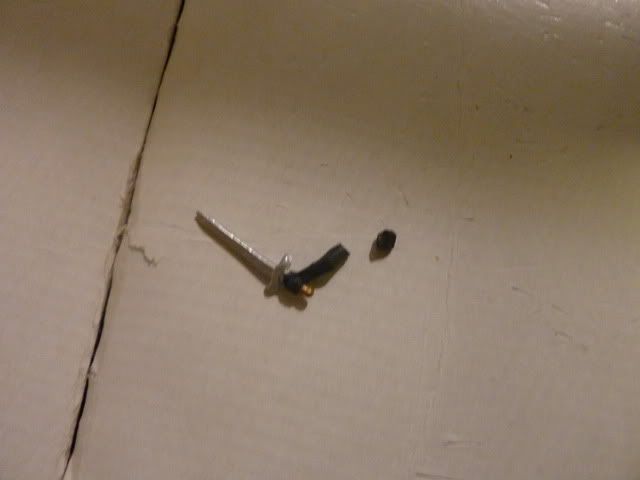 Now, place the extra "triangle" trimmed piece aside. Glue the arm back onto the body; but angle the arm so that the sword is pointing slightly upwards:
Place the assassin aside, letting it dry. Take out your Elite Clone Grenadier's (referred to now as EG) body and the Clone with Night Vision's (referred to now as CV) head and gun. Cut off the EG's grenade.
Now, glue the CV's gun where the grenade should have been. It should look something like this: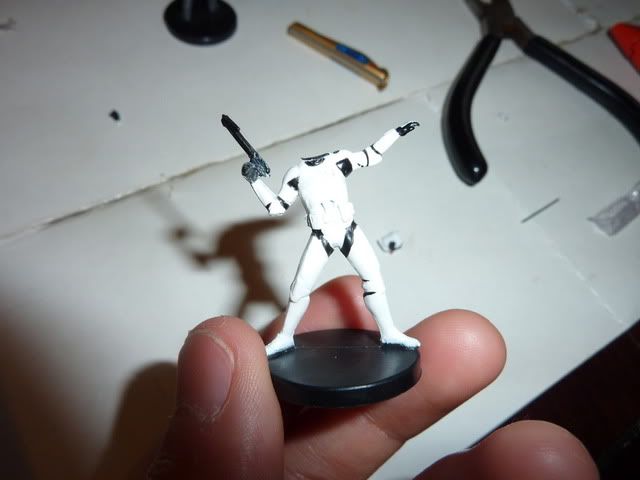 Now take the CV's head. Glue it to the EG's base, a little to the left; according to the clone. Glue the flat part of the helmet where you cut off the CV's arm holding the eye thingy. See the picture below:
You're done! Position the figures so it looks like the assassin has snuck up behind the clone and has just sliced off his head. I posted a picture below how i positioned them:
So that's it! Once again, Q's or comments are greatly appreciated. The cool thing about this is not only did you use your leftovers; but you now made an awesome (and non-passive) pose for your GenoHaradan Assassin!!