So Saturday Dean, his crew, and I decided to go to Lamar (our old LGS) and try out some of the new pieces.I talked to I show up to the store and Dean isn't there so I'm like no big deal. He still isn't there when the tourney starts so I start to wonder whats going on. I had planned on running a Kyle JBM Kol squad with the New Leia for re-rolls on evades, but I needed a TBSV to play that squad and I was going to borrow one from Dean. So I decide to run a squad with Rex, Palpatine Sith Lord, Thrawn, Imperial Gov. Tarkin, Ozzel, Lobot CLO, 4 ugnaughts and a Caamasi and my map is Rancor Pit I get my first pairings and get Zack, for you guys that have read Dean's threads about this place he is the 18 year old kid that cries when you tell him he can't cheat, I take a look at his squad and he is running GMY, Doombot, Qui-Gon, Jedi Trainer, Lando Calrissian, Hero of Taanab, 3 Antarian Rangers, Mas, and 4 younglings.I am thinking this is going to be a walk in the park. The game lasted 3 rounds. R2 died in round 1 to ugnaughts, Yoda died in round 1 to Rex. Palpatine got swapped in for a Caamasi that was based with all of his Antarians and 1 youngling. He killed them all. Next round he based me with Qui-Gon and missed both attacks. I then killed his other 3 younglings and put some damage on Qui-Gon with Palpatine. He spun a few pieces then I killed his Qui-gon and he conceded. I lost no pieces that game and none of my characters any damage.
Next game I played one of the twins there. These guys are actually ok, I get along with them ok and they aren't like the typical tools there. He is playing Dash, RS, Cade, BH, Han Scoundrel, TBSV, Rieekan, Dodonna, Mouse droid, Lobot CLO, and a few ugnaughts. I figure I'm going to have to be a little bit more careful this game with his Han having accurate, but overall I wasn't too worried. We played on my map again and I got left side again. I get gambit first round and spin pieces. We spin pieces until he gets to his big shooters and he moves them all down into gambit. I am just astounded at this move. I then move Palpatine and Lightning his Cade for 30 I swap in Rex, base Cade and kill him, I then shoot Dash and he missed both of his evades so he is down to 10. I won init with Thrawn and base his Dash and Han I kill Dash then Han. So now his only real attacker is the TBSV he based me and he missed his shot. I swapped in Palpatine and killed the TBSV and he conceded. At this point I am starting to feel a little dirty. It felt like I came to a "casual tourney" with a tier 1 squad.
Next round I play the other twin. He is playing CS Yoda, Doombot, Lobot (old one), Mas, Commando Training Sergeant, Jar Jar, and 3 Sevs and some ugnaughts he brings in a Twi'lek body guard, and a Naboo Soldier. We play on my map again and this time I get the right side. This game is a little blurry in my mind because I was so laid back I was thinking about my 4th of July party after the tourney. His last activation he used R2 to tow up Yoda to get into gambit, I then use Ozzel to move 12 then swap in Rex to kill his R2. I win Init, roll an 11 and bring in a Jawa Scavenger and swap Rex out for a Caamasi. I then shoot one of his Sevs with the Jawa and Crit so he is automatically dead so shields aren't a problem there. After that we spin pieces for a round. So now his Yoda has some FPs for reflect so I'm a little Leery about swapping Rex in for some shots on Yoda. He runs up his Jar Jar and puts the body guard by him. Palpatine is within 6 of him so I spin pieces until he is out and then move back out of range of bombad. I swap Rex down out for my Caamasi and shoot his Jar Jar. He bodyguards the first 30 and kills the twi'lek. I then crit jar jar and he misses bombad and then I hit him again and another failed bombad. I win init and kill another Sev with my Jawa due to missed shields. Then he rushes up Yoda and I spin pieces until he is out. I move up my bodyguard to base his yoda and swap in palpatine and dropped yoda down to 20 HP I won Init and killed his last Sev. He doubled me with Yoda and missed both attacks with 2 fprrs. I then Kill yoda and he concedes. At this point in the tourney I am just wondering what in the heck they are doing, I am just going through the motions and not even really having to think.
Saturday I got a huge reality check and I'm glad I got it. When you play with a good competitive play group you become a better player also. 8 months ago I would play those guys, hold my own for a bit, but still lose. So I guess you could say I am an example of what you get when you practice a lot, play some of the best opponents, and learning from mistakes.

_________________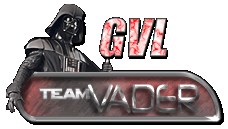 ***