Report of the German Championship 2012 -- Swiss Round
Waiting the doors opens, the stress is beginning, because my goal was the Top 8, but all greats players arrive on by one : Jari K., G. Franck, K. Daniel, Daniel R. Sebastian S, etc ....
25 players are present for this event (with 3 french player).
We begin by filling out the sheets for our 3 differents teams and take a small photo of our (French) delegation.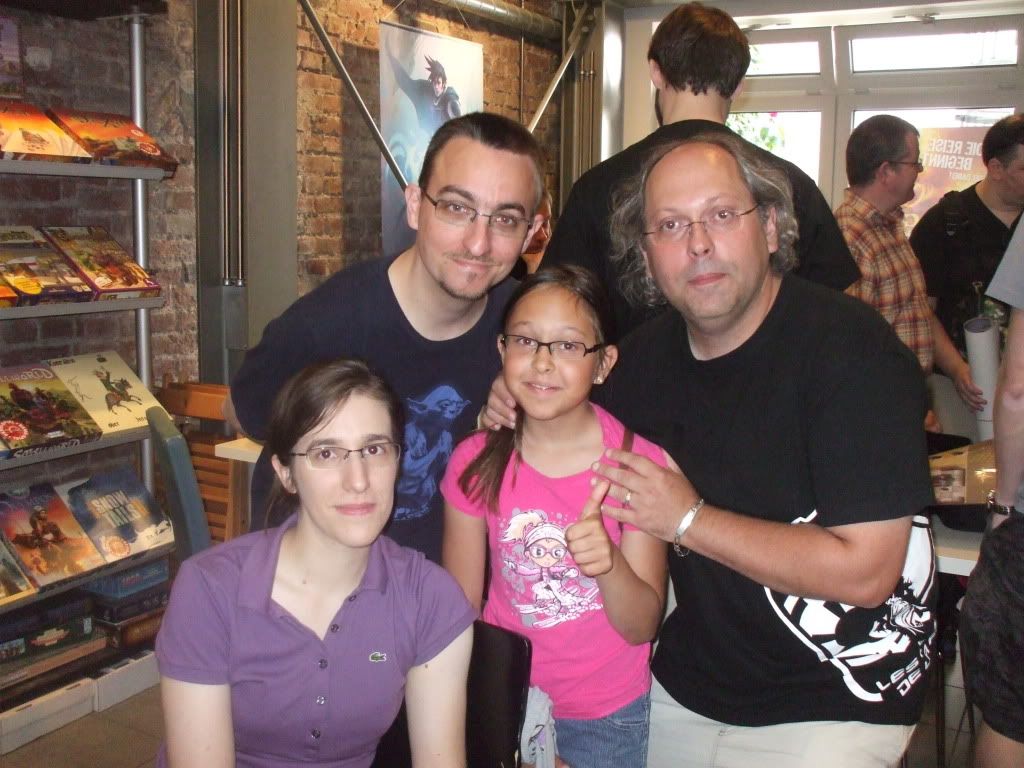 11:30, the first pairing is launched ....
Round 1 vs. Nick Wellnitz
I begin this championship against the youngest guy of the competition: Nick Wellnitz, son of well-known player of the Empire Oliver Wellnitz.
Nick Play Old Rep teams with 3 identical teams : Wookiee Elite Warrior x8, Juggernaut War Droid x2 Ugnaught.
He banishes my team "Solo Charge Light", so I choose the one with Kyle.
I win the map (ravaged base) and he takes the right side (outside).
Like he has only one shooter, I set up my gis, in order to be able to take gambit on the first round and be able to shoot his wookies with all my figurines.
1st round. Theirs wookies advance to the control room, while I go in the gambit Kyle and opens the door. As he broke the other door with his Juggernaut, Dash and TBSV kills my first Wookie. 24-0.
2nd round. He divides his troops into two, 7 wookies run through the central corridor, while two others go through the top. Kyle in his role of tank intercepts wookies while my three shooters Dash, TBSV and Jagged 2 methodically kill wookies at the end of the rounds. 62-5
3rd round. Same tactic, 3 wookies fall before they could be able to reach someone. 119-5.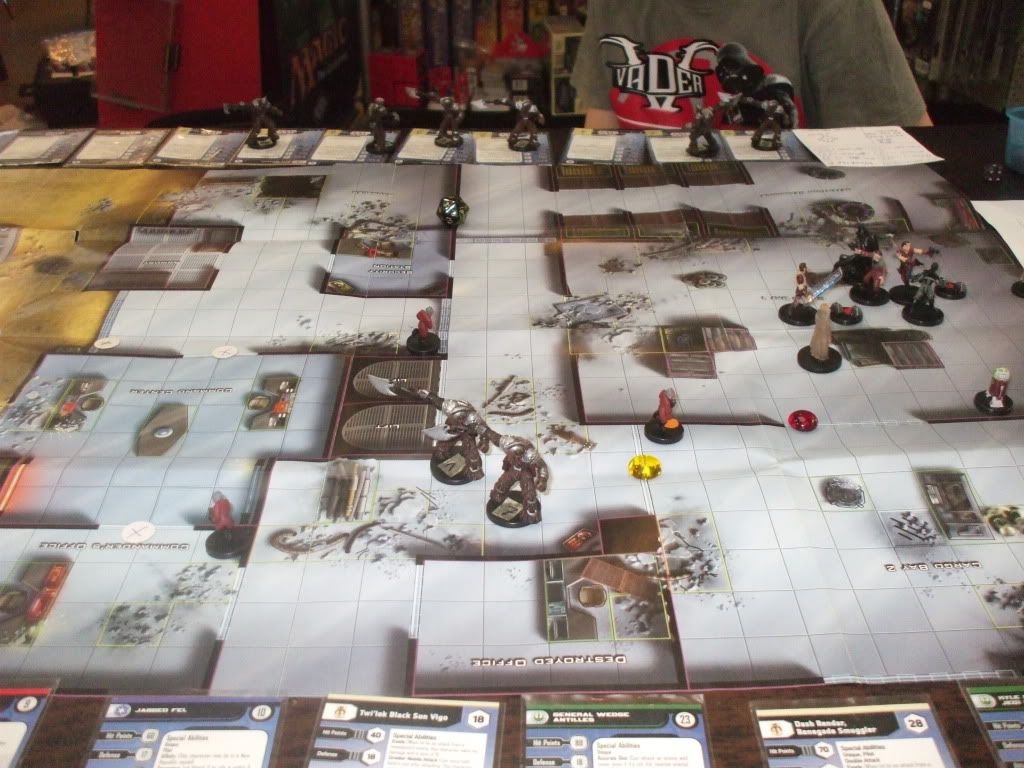 4th round. 2 more Wookies are killed with an ugnaughts. 163 -5
5th round. He hides his juggernault after a failed shot on Kyle. So I rush all my piece in order to chase his fig.. 168-5
6th round. Juggernault continues his "cat and mouse's game". 172-5
7th round. The Juggernault made a last shot missed out on Kyle. Kyle advance, and made his triple and kills the juggernault. End of the game on time (45 minutes). 190 vs 5
Round 2 vs. Christoph Allogren
With the only full victory on the 1st round, I come to the table 1. And I have to play this second round against Christophe Allogren, the finalist of the CdA 2009, and the first to play off of CdF 2009.
He plays REBEL with three teams as follows:
1) Pusher / Opportunist
2) Snowspeeder / Rebel Commadno
3) Boba Fett with Bothan Noble ...
I choose to ban his team with the Snowspeeder and he banishes Kyle (because it does not want to face Dodonna / wedge).
So I choose my "Solo charge Light " and he choose his rebel pusher (Yoda of Dagobah, Vader's Apprentice Redeemed, smuggler Han Solo, Princess Leia, General Riekan, Lobot, Ugnaught). He takes the following reinforcement : R7, 2 mouses and 2 uggies. For my part, I take a Felucian, 3 uggies and mouse. A difficult game starts....
I win the map and he sets up inside the room.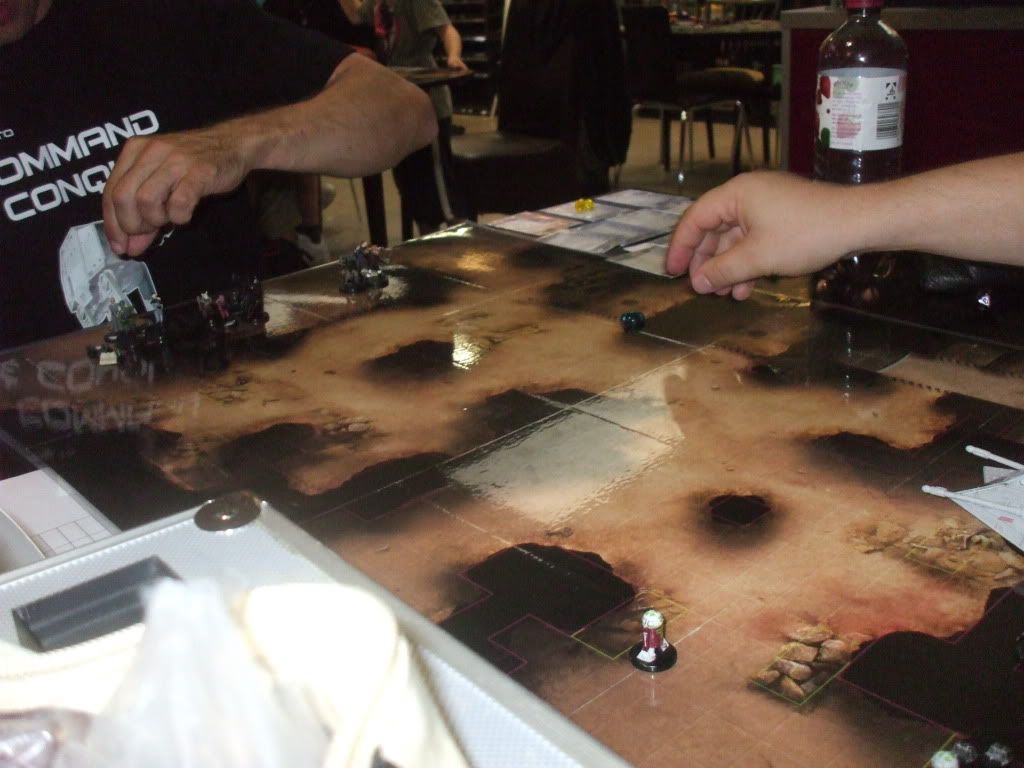 This was a close game.
1st round. We are moving slowly. I Levite Anakin Solo in the gambit. 5-0
2nd round. I Make an error of placement, and his Han Solo obtain a LOS with my Lobot. Ouch! It starts very badly. Having no choice, Ganner Levite Mara Jade and rushes Han Solo without LS Assault because of Yoda is not far. In return, s Vader's apprentice push her, and Leia give a shot to Han. 10 to 27
3rd round. I win the initiative. Han Solo GH advances to put Han in the disruptive area and thus kill him and begin to injure Yoda. Vader's apprentice made a second push which kill before Mara. But now, Yoda cannot cancel force of power. Ganner Levite Anakin solo who can launch a very good Force Unlashed which kills Lobot, mouses, Ugnaughts and hurt Leia and VAR (30 pt) and Yoda (60 pt). (It could not hurt Leia and Yoda if it had 3 FP) 72-72
4th round. Initiative won, Han Solo kills Yoda. Back VAR push Anakin and Leia began to flee. Ganner Push Leia and kills her. 128-95
5th round. Han Solo and Ganner finish VAR and Riekaan. 190-95 victory and second in time
3rd Round vs Daniel Reppel
The fastest part of the day. For the third round, I confront Daniel Reppel, CdF finalist in 2010 and who had beaten me en 2012.
He plays New Rep plays with three teams:
1) Mara / Ganner and many activations
2) Grand Master Luke Skywalker, Yoda spirit, Leia
3) Garm Iblis Zuckus, Jaina Solo, Han Solo Smuggler, Dodonna.
We banish our teams each comprising Ganner / Mara.
As my team with Kyle can't manage GM Luke, I choose my team "surprise" and him his team with GM Luke (Yes!). I win the map and he sets up inside.
1st round. We are moving slowly. I put Boba Fett in the gambit, shortly followed by my two YVOG. GM Luke also advance in the gambit. 5-5
2nd round. Daniel seems afraid by Boba Fett and the Bothan Noble who can reactivate it. He rushes the Bothan Noble who was not far enough from GM Luke (17 cases). But when he takes the AO from the Vong, he discovers the combo (vongs with twin and vs Jedi at atk = 18/30 damage). I play my 2 vongs who kill GM Luke (and the associated spirit). He abandoned the party because Leia can do nothing. 145-5.
Round 4 vs. Daniel Koch
The second very very close game of the day (after the final) because it's against Daniel Koch (CdF winner 2009) who plays Empire with the following teams:
1) Thrawn / Cade Bane
2) Ozzel, Lord Vader, Arica, Nyna, Lobot, wicket, mouse x2, uggy.
3) Admiral Piett, trooper, Czerka ...
He did not want to face Kyle / Dodonna leaving me play "Solo Charge Light ".
For my part, I banished Thrawn / Cade Bane which is very difficult to manage.
He won the map (Nuhilist Grand plaza) and I choose the left side (without having to open doors). I Set up my figurines in turtle around the bodyguard that I brought with Lobot
Reinforcements are: Ewok scout, Aqualish assassin, x2 uggies
1st. I move Mara in the gambit and in position to attack all opponent's pieces that is in the gambit. Daniel moves his Lord Vader in Gambit and Arica on the other side (The turtle position was not a good idea for the blaster barrage... Grrr ....). 5-5
2nd round. The initiative is critical and I won it ! Mara do a Ls Assault on Lord Vader with 3 successfuls attacks.
Arica makes a good blaster barrage, but she is in the area of disruptive and does not benefit bonus from Lord Vader Nyna (Ouf).
Arica kills the bodyguard, the mouse, and hurts Ganner, Skywalker and Han (who just evade once). Ganner levitates back Mara but I misplaces, allowing Vader to put a beautiful Lightsaber sweep to Mara (1 attack hit), Ganner (2 hit) and Anakin (Vader misses the first and second was blocked by anakin). Anakin kills Lord Vader and Han Solo hurts Arica. 76-5
3rd round. He won the initiative and as I am always misplaced, Arica can do a second nice blaster barrage and kills Anakin and Ganner. After Arica fled, but not far enough for Mara who kills her. Han Solo kills Wicket and Aqualish assassin. 115-62
Daniel abandons the game because he has not enough firepower to fight against Han Solo and Mara Jade nearly with full health !
Fourth victory in time!
5th Round vs Franck Gerolstein
This is the last round. With my 4 wins in 5 points, I am sure to finish at the first place even with a defeat in this round. For this last play-off game, I face Gerolstein Franck (the player with the highest title in Germany).
New Rep plays with three teams as follows:
1) Mara / Ganner / Wedge / Jacen Solo / Yoda spirit / CAEL senator
2) Grand Master Luke Skywalker, Dodonna, Rodian Traider, R7 astromech, mouses, uggies
3) Garm Iblis Yuzhan Vong Ossus Guardian x2, Jareal.
So we have nearly the same teams with only small variations. His teams are more defensives.
We banish our teams each comprising Ganner / Mara.
As for the third round, my team with Kyle cannot manage GM Luke, Thus I choose my team "surprise" and him GM Luke (Yes!).
He win the map and I choose the left side (in order to be able to take the gambit the first round).
1st round. We are moving quietly and we take together the gambit. 5-5
2nd round. I continue my move to blast the doors. At the end of the round, GM Luke rushes Boba Fett and makes a twin. 10 to 10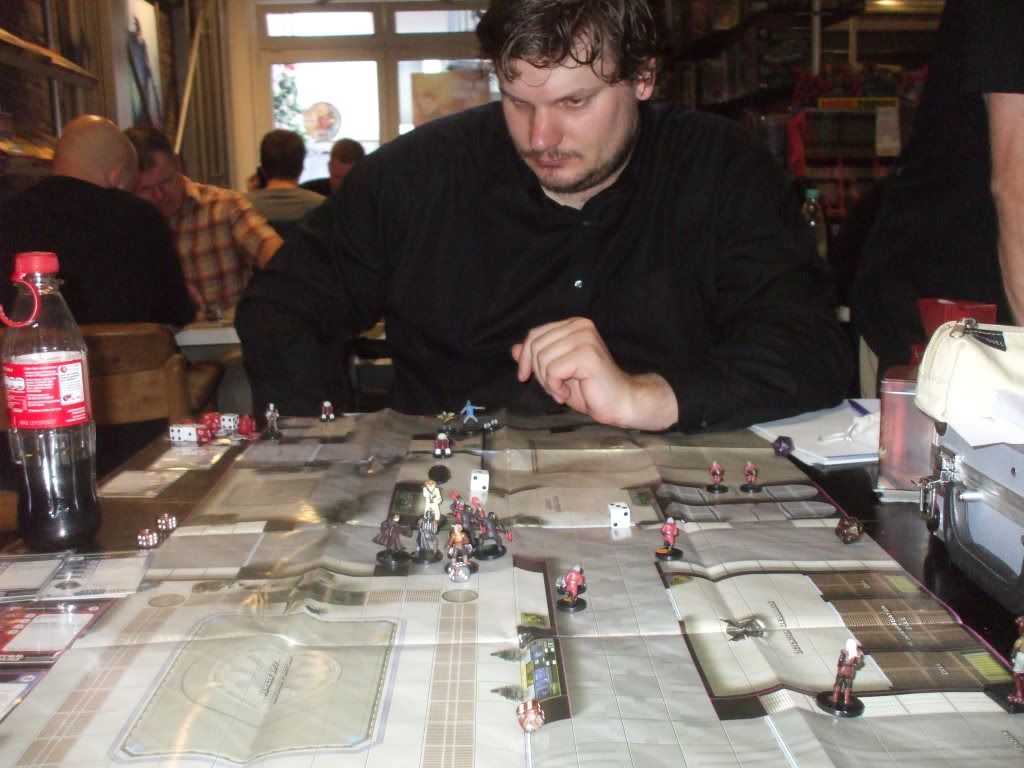 3rd round. I win the initiative. Boba Fett makes two failed shoot on Luke and go back. Luke kills my Bothan noble. My two Vongs wound Luke seriously (100 points), they take somes djem style, but the crab armor are all successful! 15 to 15
4th round. I still have the initiative (20). A Vong kills Luke. My opponent abandons the game (even without the initiative, it could not kill my two vongs with its triple / twin). 130-15.
5 wins in 5 points!
The final phase later...